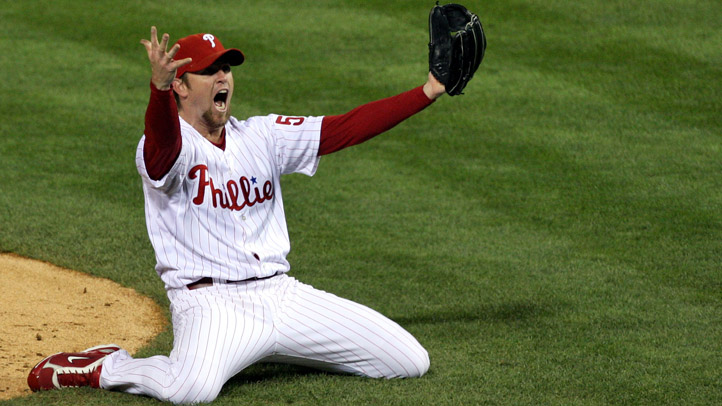 Brad Lidge, the closer who was perfect for the 2008 World Series Champion Phillies including recording the final strikeout to win it all, has decided to call it a career.
Baseball sage Jayson Stark broke the news on Twitter:
"Free-agent reliever Brad Lidge has informed his agents, Rex Gary & Jim Turner, that he plans to retire. One of the all-time class acts."
Gary confirmed the retirement news to NBC10.
Lidge, who turns 36 later this month, last pitched with the Nationals last season until he was released in June after posting a 9.64 ERA in just 11 games after missing the start of the season with a sports hernia.
The right-hander saved 112 games (including playoffs) for the Phillies including a perfect 48-for-48 for the world champs. The image of him on his knees looking up to the sky after clinching the World Series is one of the indelible images in Phillies history.
He followed up his perfect season with a disastrous 2009 season where he went 0-8 with 11 blown saves and a 5.40 ERA in 2009. He was never really the same pitcher as he battled injuries for the rest of his Phillies career.
Despite the struggles, "Lights Out" Lidge as he came to be known, will forever be remembered as the piece that put the Phillies over the top in 2008.
All the best to Lidge in the next phase of his life.