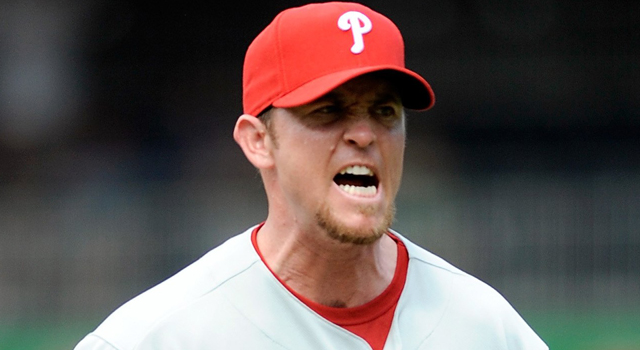 At times last season the "Bridge to Lidge" was a concern for the Phillies but now Brad Lidge himself has struggled leaving fans asking if it's a "Bridge to Nowhere."
Despite taking two of three from the Bronx Bombers, with a heavy offensive arsenal of their own, Lidge continues to be a concern for the Phils.
Once a black hole thought impenetrable by any source of light, Brad "Lights Out" Lidge has become more "Lit Up" than "Lights Out." Perhaps more than any other player in the Phillies visit to the Bronx over the weekend Lidge failed the team -- lit up by the Bronx Bombers.
New or old, Yankee Stadium will always have an overwhelming mystic. A place where players can shine of fade -- in his two closing opportunities Lidge faded away quicker than a $10-Yankees-Stadium beer.
In an Edison-like performance, Yankees bats lit up Lidge for four earned runs in only 1.1 innings of combined work on Saturday and Sunday. Two blown saves and Saturday's loss were the results.
After sealing Philadelphia's championship season in 2008 with an impeccable 48 saves in 48 opportunities in his first year in pinstripes, Lidge hasn't had a repeat performance in 2009.
Alex Rodriguez's two-run, game-tying drive in the bottom of the ninth in Saturday's 5-4 loss to the Yanks was the sixth home run allowed by Lidge this year.
He allowed only a pair of jacks all of last season.
The closer leads the league with four blown saves in 12 chances while sporting an Adam Eaton-esque 9.15 earned run average.
Lidge's ERA, 20 earned runs, six homers allowed and 29 hits given up are all the worst in the National League for closers.
Lidge stumbled out of the gate and hasn't had his ERA blow 3.00 since April 12.
What's also missing is Lidge's ability to maintain his composure. It seems as if teams get into his head causing him to lose focus.
Blame it on his control (12 walks in 19 innings,) the lack of movement on his slider or on the a-a-a-a-a-alcohol-like intoxication of 2008's success but patience for Lidge is fading quickly in Philadelphia.
Maybe it's time for Ryan "Mad Dog" Madson to make his presence felt in the ninth. But for now Charlie Manuel still has Lidge as his guy.
The Phillies made a three-year, $37.5 million investment in Lidge halfway through last season. He had earned that deal at the time. Now he needs to prove his professionalism and live up to the moniker "Lights Out" once again.