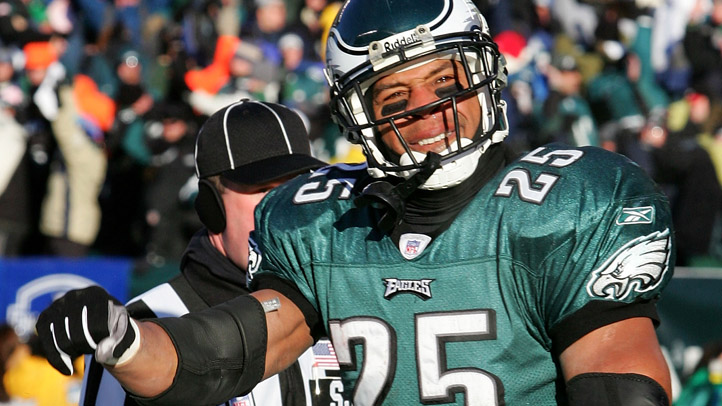 Former Eagles running back Dorsey Levens, former NFL rushing leader Jamal Lewis and two other former NFL players have sued the league over brain injuries that they say left them struggling with medical problems years after their playing days ended.
Levens and Lewis, along with Fulton Kuykendall and Ryan Stewart, filed the lawsuit against the National Football League and NFL Properties LLC this week in U.S. District Court in Atlanta.
The players maintain the NFL knew as early as the 1920s of the potential for concussions to harm its players but only went public last year.
"The NFL has done everything in its power to hide the issue and mislead players concerning the risks associated with concussions," the players argue in the lawsuit.
"While athletes in other professional sports who had suffered concussions were being effectively 'shut down' for long periods of time or full seasons, NFL protocol was to return players who had suffered concussions to the very game in which the injury occurred," the lawsuit states.
The NFL responded that it has long made player safety a priority and continues to do so.
"Any allegation that the NFL intentionally sought to mislead players has no merit," the league said in a statement to The Associated Press on Thursday. "It stands in contrast to the league's actions to better protect players and advance the science and medical understanding of the management and treatment of concussions."
Each of the four ex-players had long careers in the NFL. Their lawsuit is one of about a half-dozen suits filed against the NFL in recent months by past players who say the league did not do enough to protect them from concussions.
Levens, 41, was a Pro-Bowl running back during his eight seasons in Green Bay. He played with the Eagles in 2002, the Giants in 2003 and returned to be part of the Eagles 2004 Super Bowl team before retiring after the 04 season.
Lewis, 32, is a former running back for the Baltimore Ravens and Cleveland Browns whose 10-year career ended in 2009. He led the NFL in Rushing with 2,066 yards in 2003 for the Ravens.
Kuykendall, a former linebacker who is 58, played in the NFL between 1974 and 1985. And Stewart, 38, was a safety for the Detroit Lions for five seasons ending in 2000.
The men claim a range of medical problems stemming from their playing days, including memory loss, headaches and sleeplessness.
They are seeking a jury trial and unspecified damages.
Copyright AP - Associated Press