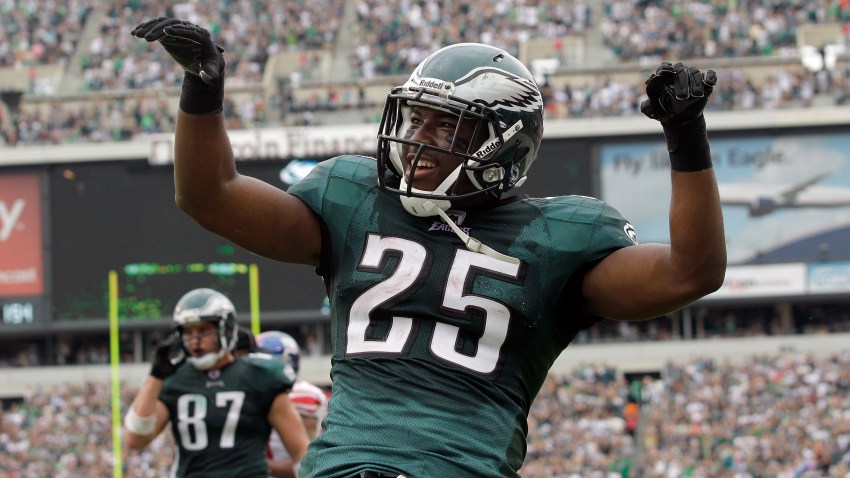 As I described yesterday, the odds of the Eagles finishing off the season with only two losses and making the playoffs are very small. Anyone who has watched this team for even a few minutes can tell that this is a below .500 team right now. And I I have little hope that the main issues plaguing the team will be fixed any time soon.
But I can be convinced that the Eagles will win on Sunday, in spite of those issues. I think that requires one thing: unleashing LeSean McCoy.
Let me try to illustrate just how great McCoy's season has been through five games. Only seven running backs in the last 20 years with more than 100 carries in a season have scored higher than 30 percent on Football Outsiders rushing DVOA, a statistic that measures performance above the average player. If McCoy can keep it up, his will be the highest of all of them:
2011 LeSean McCoy — 39.1%
2000 Marshall Faulk — 35.0%
2010 Jamaal Charles — 33.9%
2002 Priest Holmes — 31.1%
2003 Onterrio Smith — 30.8%
2006 Marion Barber — 30.5%
2004 Larry Johnson — 30.0%
And this isn't a fluke. McCoy has the highest yards per carry average in the NFL among running backs with at least 30 carries. He is tied for the second-most rushing touchdowns, first all-purpose. This production is despite an offensive line suffering from injuries, poor blocking by rookies and journeyman free agents, and a general inability to gain an inch on short yardage and goal line plays. Oh, and he's seemingly the only Eagles offensive skill player to not have a fumble. That is a historic season in the making.
Yet, even by Andy Reid's low standards, McCoy hasn't gotten nearly enough touches. There are 13 running backs with more rushing attempts. If you look at rushing attempts by team, the Eagles are ranked fifth. But that includes Michael Vick's 38 scrambles. Take those away, and the Eagles are suddenly 29th.
McCoy was handed the ball only 20 times in the last two games. To let that trend continue against Washington would be a crime. The Redskins have the fifth-ranked defensive DVOA this year, but are just 17th in run defense. Furthermore, it would take the pressure off Vick, expose play-action pass opportunities downfield, and keep the woeful Eagles defense on the sideline.
There is no easier gameplan than pitting your biggest strength against the opponent's biggest weakness (See: Gonzalez, Tony vs. Eagles LBs). Missing that opportunity with McCoy for this week — and the rest of the season — would be a fire-able offense.