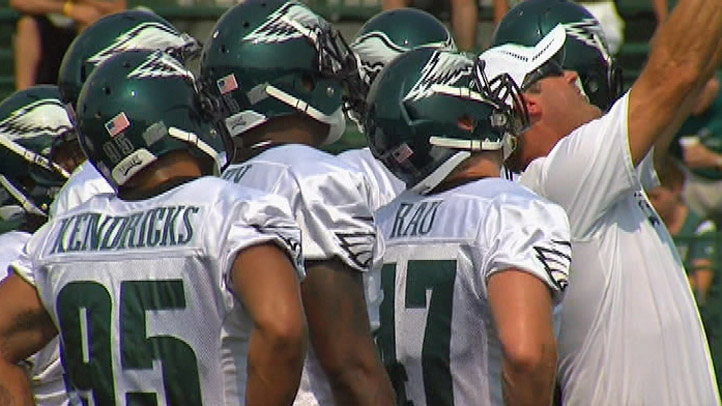 Because someone has to read all the news coming out of the Eagles training camp, here's your snark-filled digest.
---
Confirmed: DeSean Jackson let frustration over his contract hurt his performance:
"Human nature-wise, yes it affected him,'' wide receivers coach David Culley said. "It did. He tried not to let it affect him. Sometimes he didn't do a very good job of that. It affected him in meetings. It affected him on the field. There were days when it didn't. But it made him inconsistent. And that's where the human nature part of it comes in."

"I saw a couple of times last year where I saw him maybe trying to maybe save himself because (he was thinking), 'I'm not under contract and I don't want to get hurt,''' Culley said. "I don't think there was a fear factor involved. I think it was more, 'I don't want to get hurt because I don't have a contract.' The first two-and-a-half years he was here, that wasn't an issue. A couple of times last year, that came up. And I believe it came up simply because of that."
* * *
Punters, ahoy. The Eagles brought in not one, not two, not three, but four veteran punters for tryouts Monday. It's not that surprising once you understand how bad Chas Henry was last year. CSNPhilly.com's euben Frank says the most likely candidate to sign is former Pro Bowl Cowboy Mat McBriar. I honestly didn't realize he had fallen off last year and was cut. Turns out, he couldn't lift his foot.
* * *
The Felony That Wasn't. I love how the charges were dropped against Dion Lewis because the DA concluded there was "no evidence a fire alarm was ever pulled."
* * *
Backup Running Backs Will Push… Who? I absolutely don't understand where this headline comes from. Sheil's replacement at Philly.com isn't looking so hot in the early going.
* * *
Speaking of Mr. Kapadia, he brings us a great quote from Howard Mudd on where Danny Watkins is in his second year. Sounds like the mental side of the game is the real roadblock for our friendly neighborhood fireman:
"Comfort in the position, eliminating doubt about himself," Mudd said. "That just happens to players. That just happens. That's part of the growing process. I call that the valley of darkness. You get somewhere and then you start doubting yourself, doubting, doubting… and then the ball is snapped and you don't have a clue where you are. You can be very amateurish, if you will. All of a sudden, it starts to click again and you quit doubting yourself. Do well, and then all of a sudden, for whatever reason, you get there. So Danny, that's what I think the offseason's done for him."
Jimmy Kempski tells us that Mudd also alluded to the Vandervelde-Reynolds backup center competition as the position battle he's most looking forward too. I'm not sure if that's positive or depressing. Final Mudd note: I discount every positive thing he says about Demetress Bell by half. There's only one Jason Peters, and unfortunately he couldn't keep his balance on a Roll-A-Bout.
* * *
In other meta-reportage, Jimmy needs to stop wasting his time talking to guys like Keenan Clayton after practice. Clayton's competing with Moise Fokou for the coveted "last linebacker cut" trophy. Then again, at least our favorite NFC East blogger didn't get stiffed like ol' timer Paul Domowitch.
* * *
Rampant Tight End Speculation! The Eagles have now been linked to Visanthe Shiancoe and (gag) Jeremy Shockey. Raise your hand if you're shocked that the Brett Brackett hype was purely media-driven. No one? Good.
* * *
Andy Reid Weight Loss Watch. He totally walked home from practice, guys.