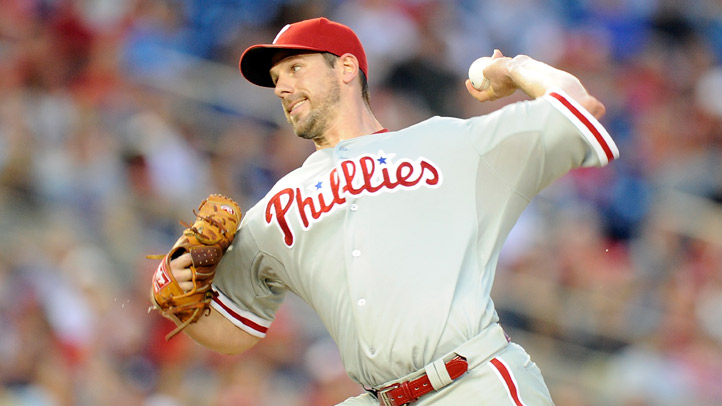 Cliff Lee threw seven innings and scored on Jimmy Rollins' inside-the-park home run to lead the Philadelphia Phillies to an 8-0 victory over the Washington Nationals on Tuesday night.

On the same day Philadelphia traded outfielders Shane Victorino to the Los Angeles Dodgers and Hunter Pence to the San Francisco Giants, one of the Phillies' other former All-Stars heavily involved in trade rumors _ Lee _ excelled.

Lee (2-6) allowed five hits and one walk and struck out seven for Philadelphia, which snapped a three-game losing streak.

Stephen Strasburg (11-5) allowed a season-high six earned runs and had season-lows with three strikeouts and 65 pitches.

Lee hit a two-out single to drive in John Mayberry Jr. in the fourth inning. For good measure, Lee stole second, his second career steal, before scoring on Rollins' fourth career inside-the-park home run.

Rollins blasted the ball off the wall in right, and outfielder Bryce Harper crashed into the fence. The ball rolled back toward the infield and Harper had little chance to throw out Rollins once the right fielder recovered the ball.

It was just one of the ways the last-place Phillies _ still 15 1-2 games out of first place in the NL East _ were sharper than the first-place Nationals on Tuesday, a day Philadelphia seemingly acknowledged its run of five straight division titles would end.

Kevin Frendsen, whom the Phillies recalled from Triple-A Lehigh Valley when they placed third baseman Placido Polanco on the 15-day disabled list Thursday, hit a two-run homer in the second.

Juan Pierre stole second and third on consecutive pitches in the third and scored when catcher Jesus Flores' throw to third went into left field.

Ryan Howard reached first base after striking out on a wild pitch in the seventh inning.
Copyright AP - Associated Press