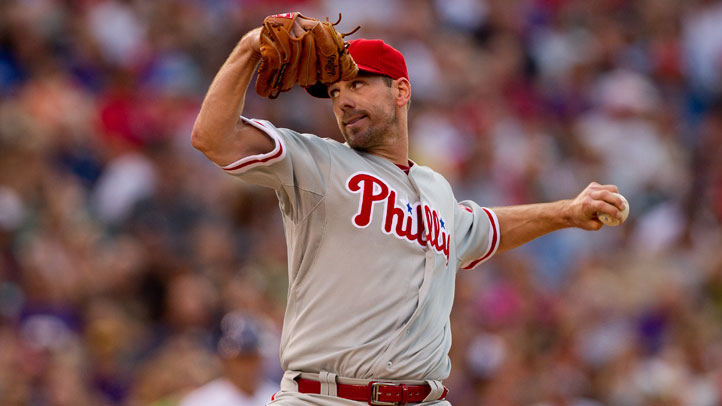 With less than a week to go until the trade deadline, there is a lot of talk about players who can, might, and will be traded to contending teams. And, as it happens every year, there is a lot of talk about players who have zero chance of being traded, but because some executive heard their name in a meeting that might not have ever taken place, baseball writers feel compelled to throw their names in the ring, too.

One such player is Cliff Lee, the veteran lefty who is having a good – but strange – season for the Philadelphia Phillies. He's in the second year of his contract with the Phillies, but with a salary north of $20MM a year, he could be someone the Phillies might consider moving.

But, could they really trade Cliff Lee?

Short answer? No.

Long answer? Maybe. But only if everything goes absolutely right.

First, it's about return. For the Phillies to move Lee, they'll need something of some value coming back. It's not like when they traded him in 2010 for some mid-grade prospects, when he was more or less a rental player for the Seattle Mariners. Even though Ruben Amaro should have received much more for Lee in that trade, in order for him to get moved now, they'll need to get a package in return similar to what the Phillies gave up to the Toronto Blue Jays when they traded Roy Halladay. We're talking about a blue chip, near-MLB ready player and a pair of highly regarding players with somewhat high ceilings.

The name that gets bandied about most often is Mike Olt, the third base prospect in the Texas Rangers system. He is a 23-year-old, right-handed hitter with power and a career .910 OPS in three seasons of professional ball. That's just the starting point. On top of that, the Phillies would need another hitting prospect, and probably a pitching prospect for good measure. And as we all know, the Rangers have one of the best farm systems in the game, so there will be no shortage of players to choose from.

Second, it's about money. The Phillies find themselves in a precarious position nowadays, because they owe a lot of money over a lot of years to a small amount of players. Along with Cole Hamels, the Phillies are paying Lee, Halladay, and Ryan Howard over $20MM a piece per year, meaning that a large chunk of their payroll is spread out over a small number of players.

It's not that the Phillies can't afford it, it's that the potential for a luxury tax severely dampens how they can govern their purse strings. They can't just offer huge contracts to players if they want to have any sort of flexibility. And if they can potentially get some team to pick up the tab for the rest of Lee's contract – which is at least $75MM over the next three seasons – then it is certainly something worth considering, especially when they will also be ridding themselves of any monies owed to Placido Polanco, Shane Victorino, and Joe Blanton after this season. If they could clear Lee's salary, that would give them better than $45MM to play with in the off-season.

Third, it's about the future. Right now, the Phillies are in an odd position. They are aging, but they are still able to compete if things go there way. At the same time, they don't have a young core to step up and take the reigns like they did in 2006 and 2007. Aside from Hamels, the only players under 30 are Hunter Pence, Vance Worley, Kyle Kendrick, Freddy Galvis, John Mayberry, Domonic Brown, and a smattering of bullpen arms.

This team isn't able to run amok on the rest of the league anymore unless they get some new, younger blood in the lineup on a daily basis. The elder statesmen – Chase Utley, Ryan Howard and Jimmy Rollins – have all dealt with injuries, and they should continue to be health risks going forward. For that reason, this team needs to rebuild its farm system and get younger.

Is there a chance they can make all this happen in one trade? Yes, but it's a long shot. If they want to get a good haul, they will likely have to take on some of the salary. At a certain point, that might be worth it when you consider just what the Phillies need to do to remain competitive in the league.

And is it likely to happen? Probably not. Ruben Amaro made his mark last season when he came in under the radar and signed Cliff Lee to his current deal, so it would take a ton to get him to want to trade him away.

For now, you can chalk this story up to the madness that is associated with the trade deadline.