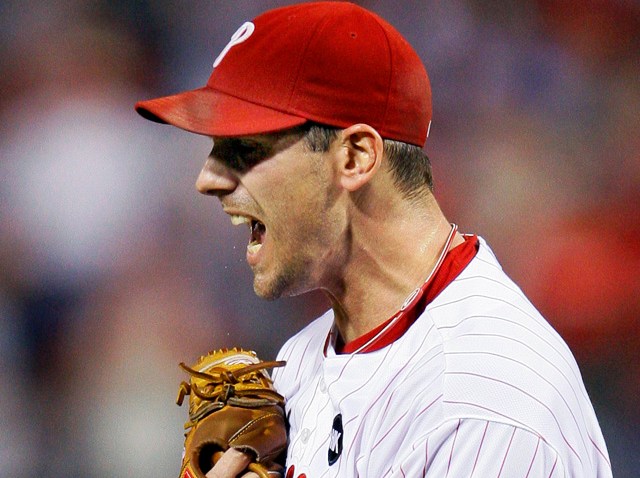 With a sellout crowd standing and roaring in anticipation of another shutout, Cliff Lee reared back and fired his final fastball of the night.

Swing and miss. Game over.

Lee threw a six-hitter, Carlos Ruiz hit a three-run double and the Philadelphia Phillies beat the Washington Nationals 5-0 on Tuesday night.

"Every time I'm on the mound, I want to be the last guy out there," Lee said. "I feel strong and good and hopefully I continue to feel that way."

The NL East leaders have won six of eight and reduced their magic number for clinching their third consecutive division title to 12 with 19 games remaining.

In his best outing in three weeks, Lee struck out nine and walked three to record his second shutout and sixth complete game this season. He was 1-2 with a 9.60 ERA in his previous three starts after giving up three earned runs in his first five with Philadelphia.

"My past few outings I got a little fastball happy," Lee said. "Tonight, I tried to be more conscious of mixing speeds and it worked. That's the name of the game. You have to be as unpredictable as possible."

The defending World Series champions acquired the reigning AL Cy Young award winner from Cleveland in late July to strengthen the top of their rotation. Lee has been outstanding for the most part, posting a 2.67 ERA in nine starts. Overall, he is 14-11 with 3.00 ERA.

On Sunday night, Pedro Martinez and Ryan Madson combined on a 1-0 shutout over the New York Mets. Phillies manager Charlie Manuel had no intention of removing Lee from the game in the ninth, even though his pitch count was 110 after eight innings.

"He was still strong at the end," Manuel said. "He was still popping his fastball. It had a lot of life on it."

Nationals starter Garrett Mock allowed five runs and seven hits in six innings. He settled down after the second inning, giving up one hit over the next four.

"He had a little bad luck," Nationals manager Jim Riggleman said. "They hit some balls hard, but he threw well after the second inning."

Lee hardly broke a sweat except in the fourth inning. He walked the bases loaded after going 39 innings without issuing one. But Lee struck out Josh Bard to escape the jam.

He fanned the last two batters in the ninth, firing a 92 m.p.h. fastball past Bard on his 124th pitch to end it.

"I expect to be successful every time I pitch," Lee said. "I have confidence in myself."

The Phillies scored one run off Mock in the first and four in the second. Jimmy Rollins led off the first with a double to right and Chase Utley singled him in after Shane Victorino sacrificed.

Raul Ibanez started the second with an opposite-field double to left and Jayson Werth followed with a single. After Pedro Feliz walked to load the bases, Ruiz hit a bouncer down the left-field line. The ball rolled into the corner, allowing all three runners to score. Rollins singled in Ruiz to make it 5-0.

Ruiz, the No. 8 hitter in Philadelphia's potent lineup, has been hot lately. Since Aug. 15, he's batting .371 (26 for 70) to raise his average from .224 to .258.

"He's seeing the ball good, he's being more aggressive and more selective," Manuel said.