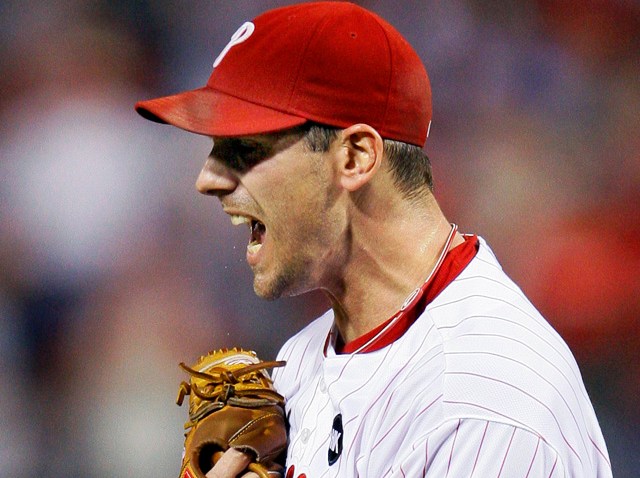 The Atlanta Braves put another notch in their now six-game winning streak as they shut out the Phillies 5-0 Friday night.
No. 2 ace Cliff Lee was brilliant as he struck out 16 batters over seven innings -- tying Steve Carlton's record for most strikeouts by a left-handed Phillies pitcher. It was also the most K's in a game since Curt Schilling struck out 16 Yankees in 1997 and the most in any single game of Lee's career. He tossed 117 pitches, 87 of which were strikes.
Nine hits and three runs were also scattered amongst the masterpiece Lee brought to the mound. After allowing the Braves to lead off the game with a pair of hits, he retired the next seven batters in a row before getting into trouble in the third inning. Lee (2-3) allowed three doubles and a single, resulting in three runs that the Phils just weren't able to get back.
Lee's final line: 7 IP, 9 H, 3 R, 1 BB, 16 K. His ERA is currently at 3.69 for the season.
Lee's counterpart Derek Lowe (3-3), fresh from having a hand in the MLB's latest DUI scandal, seemed to be matching Lee pitch for pitch as he no-hit the Phils for six innings before allowing a single and a ground-rule double to Shane Victorino and Placido Polanco respectively. They would be the only hits the Phillies would have all evening.
JC Romero and Danys Baez pitched one inning each in relief. Baez gave up three hits and allowed two runs before striking out Chipper Jones to end the top of the ninth.
Some other notes:
Polanco left the game after his hit in the seventh. He had fouled a ball off his foot during the at-bat and was noticeably in pain after running the bases. Todd Zolecki reported that he has a bruised big right toe and that the X-rays were negative.

Roy Oswalt will not pitch as scheduled in Saturday's game due to back soreness and is headed for the disabled list. Kyle Kendrick will start in his place. Kendrick is 5-1 in his career against the Braves with a 2.55 ERA. He enters the game 1-2 on the season with a 2.08 ERA in 13 innings pitched.
The Braves are calling up their top pitching prospect Julio Teheran to make his Major League debut against the Phillies on Saturday in lieu of using Time Hudson or Tommy Hanson on short rest. The 20-year-old Teheran is 3-0 in five Triple-A starts with a 1.80 ERA, ranking third in the National League. He will head back to AAA-Gwinnett regardless of his performance.

Game time Saturday is 7:05 PM ET on CSN.