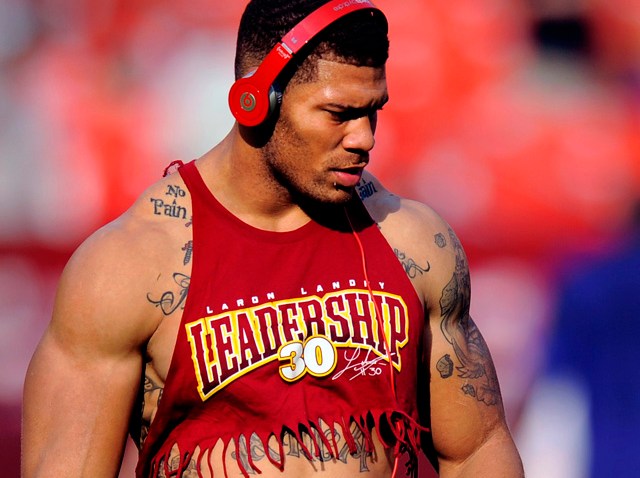 If you're curious as to what got into your Philadelphia Eagles Monday night that caused them to hang a 59-burger on the pathetic Redskins, you may be both surprised and disgusted to learn that the answer was LaRon Landry's spittle. Oh, yes. Seems the Redskins safety made two mistakes last night. He allegedly taunted DeSean Jackson about his concussions, and he spat on center Mike McGlynn. Twice. Do that, and you can rest assured that Mike Vick will go all Mike Vick Experience on you.
Eagles receiver DeSean Jackson told Philly Sports Daily that Landry brought up Jackson's recent concussion as the teams were leaving the field after warm-ups, saying, "I'm going to put you asleep again."

That instigated a mass confrontation before the game. And the bad blood continued during the game, McGlynn said, with Landry spitting in his face late in the first quarter after the Eagles went ahead, 21-0. McGlynn said Landry repeated the act later in the game.
Landry denied the allegations on his Twitter feed.
Supposedly I spit on the center if there's any truth to that I would have been flagged or the guy would have some sort of reaction!
But McGlynn DID have a reaction. He said, "Hey, that jackass spat on me." And then he helped the Eagles' offense tear the Redskins limb from limb. I'd say that's quite a substantial reaction.

I've along assumed that NFL players spend EVERY game saying and doing horrible things to one another. Taunting. Spitting. Genital punching. I can't imagine a team like, say, Baltimore going five minutes without doing one of those three things on the field. So I don't know how much Landry's supposed actions factored into this game. I think two much bigger factors in the outcome were that Vick is unstoppable, and the Redskins are horrid. That tends to override any spittle-related motivation.
As for the league's response? They will go to the tape to see if there is any evidence.