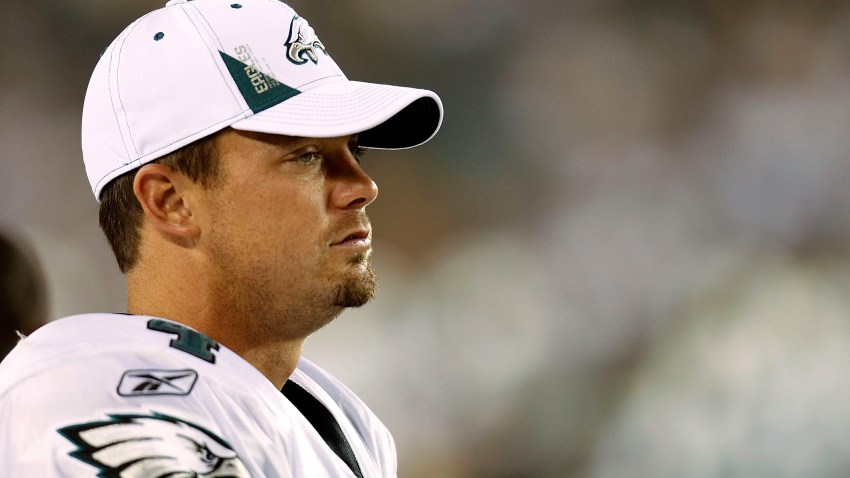 Welcome to the Kolb Watch, where every week we'll evaluate the performance of the new Eagles quarterback and what we can expect from him in the week ahead. Time to take out those tea leaves and those crystal balls — the regular season is here, and it won't be a cakewalk for Kevin Kolb or the rest of the young Eagles team.
Recent Play: Last year in the preseason Donovan McNabb completed 60 percent of his passes, throwing for two touchdowns and one interception. His numbers for the rest of the year mirrored those stats perfectly. Kolb's preseason this time around didn't go nearly as well: he only completed 53 percent of his passes with no touchdowns, one interception, and five sacks. No one thinks that Kolb will do that poorly over the course of the year, but he needs to improve markedly if the team is going to win.
Fan Expectations: Seventy percent positive. About a week ago when the Kansas City game was still on our minds, fans turned a little bit on Kolb and the rest of the offense after another lackluster performance. But after a quasi-bye for the starters in the last preseason game, things have returned pretty much to the summer status quo — general optimism and enthusiasm for seeing Kolb with the lights on.
Up Next: Green Bay's defense was ranked No. 2 overall last year by Football Outsiders. They let up only 201 yards per game through the air and led the NFL with 30 team interceptions and 37 sacks. Opposing quarterbacks averaged a rating of only 68.8. With star defensive backs like Nick Collins and Charles Woodson, pass rushers like Clay Matthews, the Packers have the tools to shut down the Eagles defense — especially on short passes behind the line of scrimmage, which Green Bay defended better than any other team in the league last year.
Prediction: Kolb and the Eagles offense will have their hands full in their first game. Going up against a good defense, they will also have to keep up with the Aaron Rodgers-led high scoring Packers attack. I think Kolb will show promise, make a few mistakes, but keep the Eagles close until late: 25 for 37, 305 yards, one touchdown, two interceptions, and four sacks.