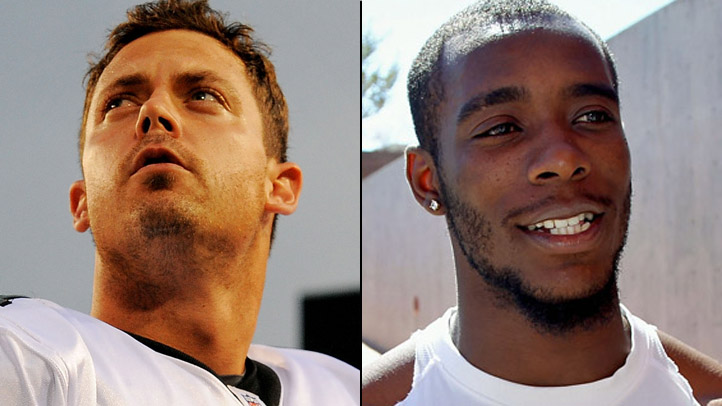 After months of speculation the Kevin Kolb era in Philadelphia ended Thursday with the Eagles backup QB being shipped out to the desert.
Kolb was traded to the Arizona Cardinals for cornerback Dominique Rodgers-Cromartie and the Cards' second-round pick in next year's NFL Draft, the Eagles told NBC Philadelphia.
FoxSports Adam Caplan was one of the first to tweet about the deal.
Kolb, who lasted just two quarters as the Eagles starting QB after being named Donovan McNabb's heir apparent last off-season, played in 19 games during four seasons in Philly -- starting just seven times.
Michael Vick's emergence as a top-tier QB made Kolb expendable.
Kolb, 26, passed for 2,082 yards while completing nearly 61 percent of his passes. Surprisingly he threw more interceptions (14) than touchdowns (11) while in Philly.
Eagles fans should view this trade as a great deal. For a backup QB with more INTs than TDs they got a former Pro-Bowl corner to play on the right side besides Pro-Bowler Asante Samuel -- filling arguably their most pressing need -- and got a high valued draft pick. DRC, 25, the Cardinals No. 1 pick (16th overall in the 2008 Draft), has 16 interceptions (13 regular season, three playoffs) -- four returned for TD -- in three seasons.
"We did want him," said Eagles general manager Howie Roseman "We evaluated all of the corners and we put DRC in that group. We're excited to get him and we think we have a heck of a player."
Eagles CB Jorrick Calvin, who played in Arizona with DRC, gave a scouting report to the Eagles website.
"He's got speed and covering ability, one-on-one coverage all day."
There is no official word on details of the trade but various sources say that Kolb signed a five-year, about $63-million ($20- to $22-million guaranteed) contract with Arizona.
"I know he'll do a great job, and I'm pulling for him," Eagles coach Andy Reid said of Kolb. "I think he deserves this opportunity. I'm very happy for him. His hard work is rewarded."
Both Kolb and DRC won't start practicing with their new teams immediately but should be on the practice field soon.