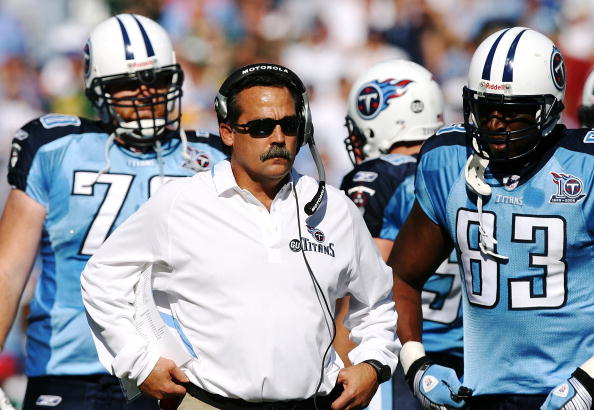 Every time the Eagles lose the rest of this season, we're going to profile potential replacements for head coach Andy Reid should he resign or be fired at the end of the season. It's a little bit of New Coach Porn to help get you through this disaster. This week's candidate: Jeff Fisher.

Name: Jeffrey Michael Fisher

Career Record: 146-120

Nicknames: None. Why he hasn't been dubbed Coach Fish for the past two decades is beyond me. Everyone named Fisher gets the Fish moniker.

Credentials: AFC Champion. Would have a Super Bowl title on his resume if not for that pesky Mike Jones tackling Kevin Dyson short of the goal line. Took the Titans to the playoffs in six of his final 12 seasons as a head coach. Has a handsomer mustache than Andy Reid. Summited Mount Kilimanjaro (Reid would have been gassed by base camp). In his 17 years as a head coach, Fisher deftly guided the Titans through a move from Houston and through any number of obstacles that would have felled a lesser football coach. He's the reliable option -- a coach whose teams always play hard and have a professional air about them even in dire times. Also, I thought he looked cool rocking the full beard.

Weaknesses: Well, I'm pretty sure the backup QB might have mixed feelings about playing for him. It was Vince Young who ultimately sealed Fisher's doom in Nashville, and bringing in Fisher means the Eagles will have to go shopping for a new backup (which they need to do anyway). Also, Fisher's poor handling of Young suggests that he may not necessarily see eye-to-eye with Mike Vick, who remains faithful to Reid for pulling him from the NFL scrap heap. Hiring Fisher means hiring a mustachio-ed coach who has one Super Bowl appearance to his credit, a history of evading the axe, and a distinct inability to get his teams over the hump. Sound familiar? At least Fisher can get fired up on a sideline. Andy Reid stands there like someone just crashed his remote controlled car.

Odds of Being Named the Next Eagles Coach if Reid Goes: 35/1. I've never pegged Fisher for being the coach of an East Coast team. His destiny lies in NASCAR country with the likes of the Jaguars or Bucs. I don't see him wanting any part of this mess.

Do You Want Him?: Only you know for sure. Let us know in the comments.