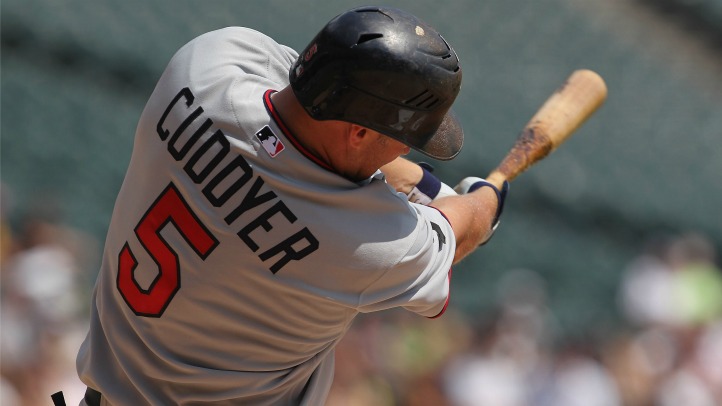 One of the hardest things about the Phillies' planning for next season is what to do about Ryan Howard.
The slugging first baseman could be back for spring training, he could miss the first month and no matter when he's back he could require more rest than in past years to make sure he's operating at a high level. The easiest way to deal with that problem would be to find a player who could fill in for Howard while also playing other roles over the course of the season.
Michael Cuddyer is just such a player. In his years with the Twins, Cuddyer played every infield position but short while also spending time in the outfield corners. Such a player would have a lot of value for the Phillies. Placido Polanco isn't a perfect solution at third, Chase Utley needs the occasional blow at second and the left field job is pretty much John Mayberry Jr.'s by default at this point in time.
And, on the days Cuddyer didn't start, he'd be a valuable bench piece who could pinch hit and remain in the game.
Cuddyer (career .794 OPS) also has a right-handed bat with a fair amount of pop (.451 slugging percentage), something that the Phillies were looking for near the deadline this year. In fact, they were believed to be interested in trading for Cuddyer if they could find the right deal. That didn't materialize, obviously, but it stands to reason that there's still some residual interest in having Cuddyer on the club.
Things aren't ever quite that easy, though. Cuddyer's skill set is going to make him a popular target this off season, something that should drive his price up. He made $10 million last season and more suitors will likely mean he can secure at least that much money while also getting a deal that runs over several years. Seeing as how he turns 33 before the start of the season, that might not be a fit for a team making noise about getting younger while keeping payroll flexibility.
That leads us to the hard thing about simply choosing to get younger. Doing so usually means making some sacrifices when it comes to on-field performance. The upside might be greater, but there's much less risk involved in signing an established performer to fill holes on your team.
The Phillies have already signaled where they come down on the equation with their willingness to send Domonic Brown back to Triple-A for another year. That could well indicate that they feel they are at a point where it makes more sense to go all in for a title run in the next couple of years and then deal with the fallout from their decisions.
If that's the case, Cuddyer makes a lot of sense as an addition to the team in 2012.
Copyright FREEL - NBC Local Media