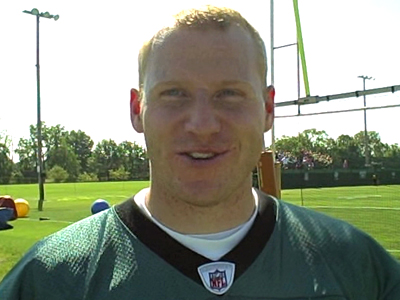 Each day of Eagles training camp NBCPhiladelphia.com will focus on different Bird trying to soar at Lehigh.
It's possible that the man punting the Birds out of trouble this season is also a lifelong Eagles fan.
Eagles punter Ken Parrish grew up an Eagles fan in East Stroudsburg, Pa.
"The family was huge Eagles fans growing up," said Parrish.
Parrish remains a long shot to take veteran Sav Rocca's spot but that doesn't mean that being at training camp is anything short of a dream come true.
"It's great to play in the NFL but to be with the Philadelphia Eagles is even better," said the 26-year-old who attended East Stroudsburg.
The craziest thing for Parrish could be that he is sharing a room at Lehigh with the man he is trying to take a job from.
"It's me (kicker David) Akers, (long snapper Jon) Dorenbos and Sav," said Parrish.
It could be tense in that room if Parrish keeps booming kicks like he was during the early days of training camp.
Parrish -- who was also given looks in the past by the 49ers and Jets but has yet to appear in a regular season NFL game -- has ideas for what will happen if he actually makes the Birds.
"There's not going to be 10 people running down the field this year -- I'm gonna be the guy running down the field, I'm gonna get mixed up in it and I'm gonna be a team player," he said with a smile.