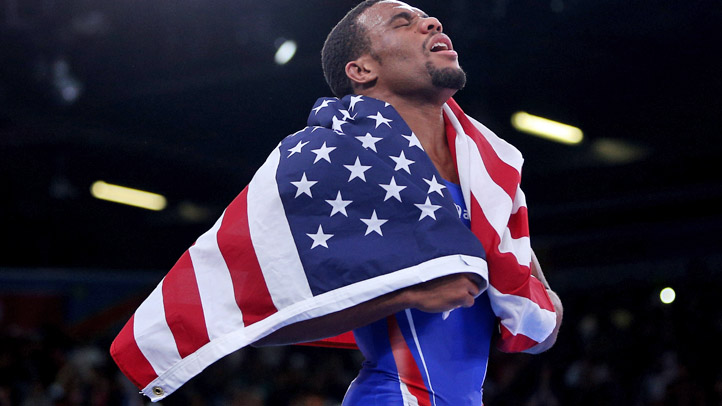 UPDATE: Swimmer and Olympic legend Michael Phelps was given the honor to be the flag bearer.
---
The United States' flag bearer for the Olympics Opening Ceremony is an honor bestowed among some of the finest athletes even if it is rarely an honor given to the biggest names.
This year, two South Jersey natives – wrestling gold medalist Jordan Burroughs and two-time soccer gold medalist Carli Lloyd – could be considered for the honor and fans as being asked to vote for their favorite potential flag-bearer on NBCOylmpics.com. [[388402421, C]]
As of Tuesday morning, Burroughs, a Sicklerville, New Jersey native, led the unofficial poll with just over one-third of the vote. Lloyd, of Delran, came in at 2 percent of the total vote. North Jersey fencer Ibtihaj Muhammad is also on the ballot. (Vote now) [[388401301, C]]

The poll won't actually wind up forcing the U.S. Olympic Committee's decision on who will lead Team USA into the Olympic Stadium Friday night and the honoree could come from among the hundreds of other US athletes not named, but it would be amazing to see Burroughs – who won gold in London – lead the way after he fought off the mat to keep wrestling in the Olympics.
The announcement of the flag bearer is expected to be announced in the coming days. [[388460861, C]]
If Burroughs carries the flag, it wouldn't be a first for the area. The Philadelphia area has been represented before as Philly native and basketball star Dawn Staley led her country into the Opening Ceremony at the 2004 Olympics in Athens, Greece. And, equestrian athlete Michael Matz, who hails from Montgomery County and resides in Chester County, carried the flag into the Closing Ceremony at the 1996 Atlanta Games.