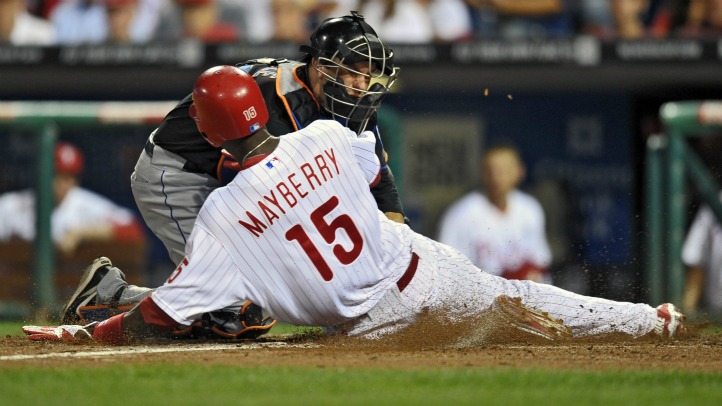 John Mayberry may want to start thinking about what he'll do with all the money the Nationals give him as a Rule 5 pick.
Premature? Perhaps, but every passing day is making it harder to ignore the similarities between Mayberry and Jayson Werth, one of his predecessors in the Phillies outfield.
Mayberry continued his breakout season on Tuesday night with another big home run and three RBIs to help lead the Phillies to a 9-4 win over the hapless Mets. He's now hitting .326 with nine homers and 29 RBIs since being recalled from Triple-A in early July. Over the entire season, he's got a 135 OPS+ over 211 plate appearances which calls to mind Werth's 2007 breakout season.
In 2007, Werth posted a .298/.404/.459 triple slash line in 304 plate appearances (Mayberry is at .275/.336/.539) for the Phillies. Unlike Mayberry, he spent the entire season on the big league roster as a Rule 5 draft pick but, like Mayberry, he was stuck as a fourth outfielder for much of the season thanks to the more established players in front of him on the roster.
It wasn't until 2008 that Werth forced Geoff Jenkins out of the lineup and took over as an everyday player for the Phillies, something that might be happening in a more accelerated fashion for Mayberry as Raul Ibanez looks more finished than Jenkins was back then. You can probably take Werth's story from there as he helped the team to two straight World Series titles and then cashed in last winter as a free agent.
Mayberry's whole trajectory can't be seen at this point, but he has a lot in common with Werth. Both were first-round picks who washed out of other organizations before finding homes in Philadelphia. Werth was 28 in 2007, Mayberry turns 28 in December and the two men have similar builds to go with their similar levels of offensive production from the right side of the plate.
All of that said, there are some big differences. Werth showed signs of breaking out before 2007, but a wrist injury cost him the entire 2006 season and made him available to the Phillies in the first place. Werth also drew a lot more walks, as evidenced by the wide gulf in on-base percentage in their breakout seasons. Mayberry's chances of blossoming to Werthian levels will be much better if he can gain some of that plate discipline to go with his prodigious power.
Even after accepting those differences, Mayberry's year feels a lot like the one that catapulted Werth from obscure fourth outfielder to top-flight starter. Both men shook up situations that seemed to be settled and forced the Phillies to take another look at what worked best for the team. Beyond any numerical or visual similarity, that is what makes Mayberry's season feel so familiar.