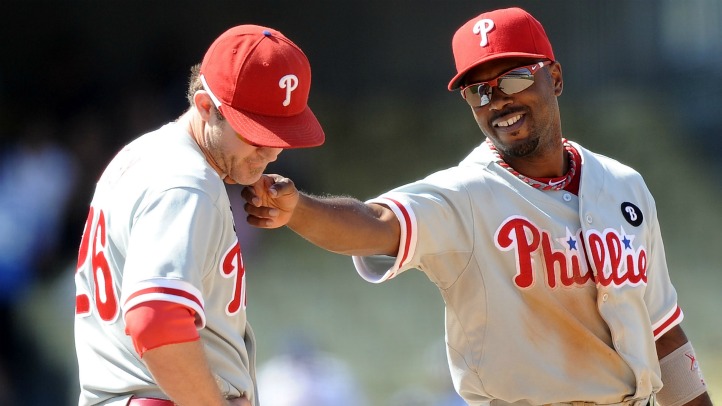 The waiting is the hardest part, especially since the Phillies don't even know who they are going to play on this weekend.
We've gone over all the possible matchups a dozen times, crunching enough numbers to qualify ourselves for a job at any accounting firm. Every matchup has been analyzed from every possible angle and the thought of thinking about these things for even one more minute is about as appealing as taking part in a crotch kicking contest when you get to go second.
So let's think about something else entirely, shall we? Let's think about Jimmy Rollins' impending free agency.
Rollins is thinking about it. The longest-tenured Phillie spoke with Jon Heyman of SI.com and laid out his ideal plan for the offseason:
"Five would be great. Five would be the number,'' Rollins said. "I don't think I want six or seven. You start thinking about 39 (years old). Do I want to play at 39? ... Right now there is no better place to play baseball, especially in the National League. With that being said, I've been here since I am 17. I never thought of going anywhere else. But am I afraid to leave? Not at all. Nothing's permanent. I don't get caught up to the point where it's either this or nothing."
J-Roll is heading into free agency the right way. He turned his offensive numbers around after two down years and saw very little slippage in his defensive play. His range isn't what it once was, but he handles the balls he gets to without incident and still has a good arm for a shortstop. Among NL shortstops, he's probably behind no one but Troy Tulowitzki and Jose Reyes, although you will find those who value his intangibles enough to put him right at the top.
Having said all of that, Rollins is still turning 33 in November. He might see a big difference between playing until he's 38 and playing until he's 39, but the Phillies might not be as clear about the distinction. They have made long-term investments to several veteran players already and it is fair to wonder if it is in their best interests to tie up lots of money and lots of years in another guy who will be hard pressed to live up to the terms of the deal in his final years.
The Phillies will probably be willing to overpay a little bit to keep Rollins around, either in terms of a fourth year or a bigger average salary, but five years might wind up being a bridge too far for them to travel. There will be other holes to fill and whatever they give Rollins will leave them with less to fill them.
The good news is that there probably aren't too many other teams looking to make that kind of commitment. If Reyes leaves the Mets, that will take care of both his new team and the Mets, who won't lay out big money for anyone but Reyes. If Reyes stays, Rollins will definitely have suitors, but, again, it is hard to see any of them laying out five years for a guy in Rollins' position. Teams have been shying away from those kind of deals in recent years and there's no sign that's changing for a player who spends time on the DL every season.
Chances are good that Rollins will remain with the Phillies for the rest of his career. The chances of that happening via a five-year deal this offseason are not very good, but it does give you something to ponder during the final 72-odd hours before the playoffs finally start.
Copyright FREEL - NBC Local Media