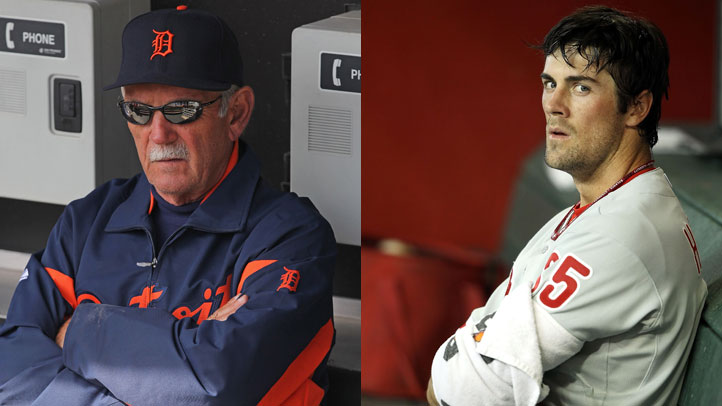 As a result of his decision to plunk Bryce Harper in the back and then speak extremely honestly about doing so on purpose, Phillies ace Cole Hamels received a five-game suspension from Major League Baseball.
Is five games enough for Hamels self-described "old-school" message to Harper? Well, Tigers manager Jim Leyland, who's so old-school that it's unlikely he had electricity at the school, certainly doesn't think so, and said on Tuesday that Hamels suspension was "too light."
"I think five games is way too light," Leyland said, via the Detroit News. "Personally, if I was making that vote, it would be a 15-game suspension -- at least."
Perhaps part of Leyland's logic on his preference for a longer suspension involves the fact that Hamels won't really miss any time as a result of the suspension. Five games for a position player is a pretty big notice from the commissioner's office. Five games for a pitcher? That's just bumping back his start.
Either way, it's certainly not something personal with Leyland.
"I don't know Cole Hamels, so I certainly don't have any qualms with Cole Hamels. I don't know the man. I know he's a very good pitcher, a very talented guy," Leyland said. "If my pitcher went out and, almost in a braggadocious way, talked about hitting a guy and that 'I did it on purpose.' [A five-game suspension] is not enough. There's no way."
First of all, big ups to Leyland for slinging "braggadocious" around. That old school he went to must have been nice.
But 15 games? Come on dude. A five-game suspension for a position player is 3.09 percent of that player's season, provided said player is going to get 162 games. 15 games for a pitcher though? That's basically the equivalent of three starts. Hamels has averaged exactly 30 starts per year in his career, which means that MLB would be hacking off 10 percent of his season by giving him a 15-game suspension.
"You know, we're always talking about our game being cleaned up and doing the right things for our game in all areas," Leyland said. "And I'm 100 percent for that. But this is a perfect time to show that we mean business."
"It becomes a joke. Let's tell it like it is."
Strong words from Leyland. But they're surprising -- he won a World Series title before Hamels even got his learner's permit, so it's not like this is the first time he's seen a batter plunked. And additionally, does he really think that Hamels deserves more than double the suspension of Tigers players Delmon Young and Miguel Cabrera -- suspended a total of seven games for arrests stemming from a hate crime and a DUI, respectively -- combined?
On the bright side, at least we can cross the Tigers (along with the Nats!) off the list of teams that Hamels might want to play for if he becomes a free agent this summer.