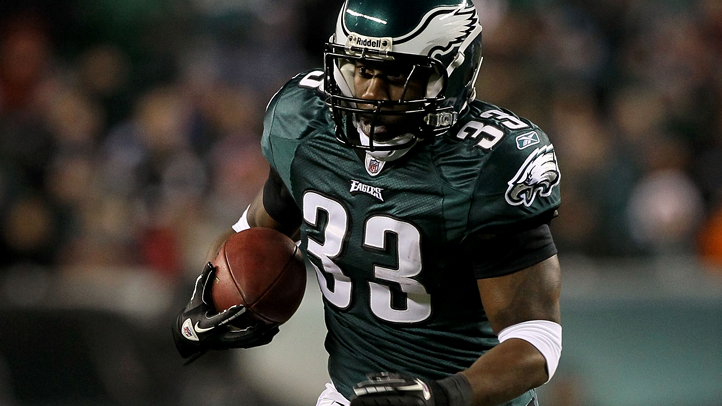 Yesterday, we brought you word that the Eagles had completed their second swap of backup running backs in as many years, with Ronnie Brown going to the Lions in exchange for former Eagle temp Jerome Harrison. But that trade was nullified yesterday when Harrison failed his physical with Eagles team doctors. And by "failed his physical," I mean he has a BRAIN TUMOR. From Adam Schefter:
As Philadelphia Eagles doctors were giving newly acquired running back Jerome Harrison his physical, they discovered a brain tumor that nullified a trade with the Detroit Lions, according to two league sources.

The trade might have might have actually saved Harrison's life, the sources said. Without the deal being made, Harrison would not have undergone a physical. The tumor is now being treated, according to sources... Harrison is not expected to play again this season, but his long-term prognosis both for life and his football career appear to be good, sources said.
Holy guacamole. First off, I think we're all grateful that this tumor was discovered in time to treat Harrison and potentially save him. Imagine being told you've been traded only to find out a day later that there was a tumor in your freakin' head. I can imagine Harrison has spent the past 24 hours wondering what would have happened had he NOT been traded and had the tumor had never been discovered. It's a joy to know you've just cheated death, but haunting all at the same time. A bit of morbid serendipity.

Now, to the Eagles. They're stuck with Ronnie Brown, who now knows he's not exactly a desired commodity. I doubt that'll cause much tension in the locker room. If anything, perhaps it'll spur Brown to work harder and become the kind of back who doesn't throw laterals at the goal line. In the end, this was something of a throwaway trade to begin with. If the Eagles can come out of this trade with a better Ronnie Brown, then they'll have improved themselves by doing nothing. And they'll have indirectly saved a life. Strange times, people.