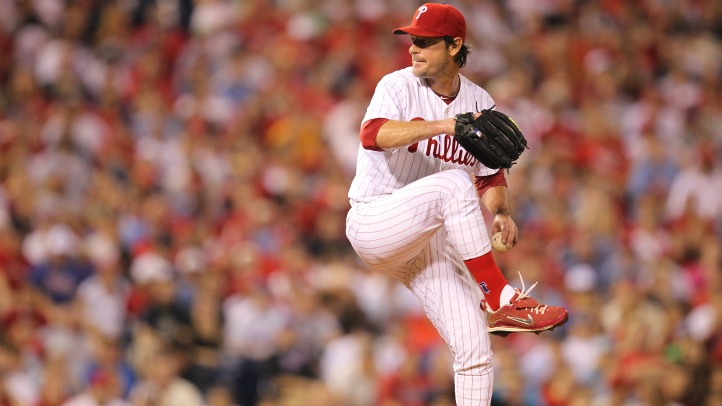 We all have good memories of the days Jamie Moyer spent in a Phillies uniform.
He won 56 games and a World Series ring in his four-plus years with the club and generated plenty of publicity for the fact that he was winning those games for his hometown team at an age that normally finds men in uniform as part of the coaching staff rather than as an active player. When he blew out his elbow in July of 2010 and wound up needing Tommy John Surgery, it felt pretty safe to assume that he'd fashioned his final memory on a big league mound.
Well, you know what they say about assuming. Moyer told Jim Salisbury of CSNPhilly.com that he has designs on pitching during the 2012 season. Moyer thinks his arm is sound enough that he could go out on a minor league rehab assignment right now and says that there are no signs that he's pushing himself too hard.
"All I can do is offer a chance to come evaluate me," Moyer said. "Some clubs will say, 'He's 49 years old,' but some will say, 'Let's give it a shot. Let's not make any assumptions until we see him throw.' Evaluate on what you see instead of what you think."
Someone will give him a shot. Moyer wasn't blowing anyone away before he hurt his elbow, but there have been plenty of pitchers in the big leagues that have done worse since he went down. Lefties always get a look, even ones born during the Kennedy administration and ones who haven't thrown harder than most high schoolers since the Clinton administration.
Will it be the Phillies? Probably not. They aren't really in need of help in the rotation with Vance Worley and Joe Blanton ready to fill the two slots behind the Big Three. You could see them extending a spring training invite to a player who was a popular member of the team, but Moyer will likely get a similar offer from another team that gives him a better chance to actually make the team.
Counting out Moyer would be a pretty big mistake. There hasn't been much about his career that has come without overcoming some serious odds, so there's little reason to think that the longshot nature of the comeback bid would be enough to stop Moyer in his tracks.
Copyright FREEL - NBC Local Media