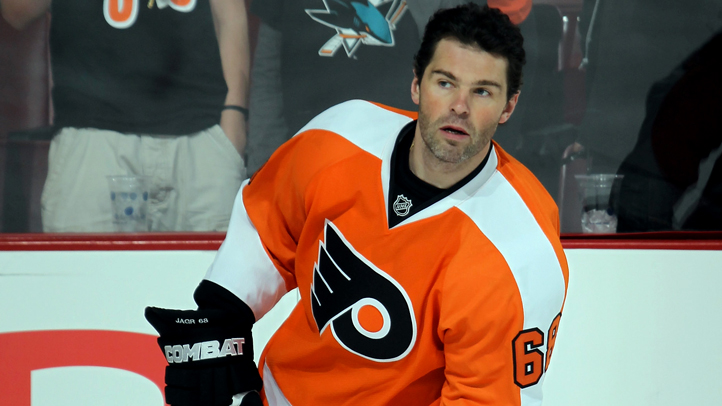 Philadelphia Flyers winger Jaromir Jagr doesn't want to do anything but play hockey, and he hopes to do so until age 50, according to a Sports Illustrated feature titled "The Jagr Hockey School" that hit newsstands Wednesday. While he's yet to light the lamp with a goal, his leadership off the ice is what intrigued Flyers management to sign the veteran forward this summer.
There are many revelations in the profile of the 39-year-old first-ballot Hall of Famer, written by Brian Cazeneuve. Among the good takeaways:
Jagr Likes to Practice Late. One of the first things the winger asked for upon signing was a key to the practice facility for late-night practice sessions, ones that his teammates began attending and calling the Jagr Hockey School. From left wing Jody Shelley: "He loves hockey more than any guy in the room. Some guys want to go out, some read books, some watch movies. He just wants to be on the ice."
Playing in Russia Was His Self-Imposed Isolation. "It wasn't only money," he says of his decision to leave North American in 2008. "Maybe I was looking for something. Russia changed me. Not much pressure. Not many distractions. Not many rules. I could follow my own, and I took them seriously."
Jagr's Sobriety Is Good for the Flyers. "After Peter Laviolette was hired as coach in December '09, he wanted his players to temporarily make the team a Dry Island, asking them to sign a pledge to abstain from drinking. Both leading goal scorer Jeff Carter and captain Mike Richards were among those who did not sign, and an uneasy détente prevailed. Jagr's description of drunken friends criticizing other drunken friends sends him into fits of laughter. He is obviously comfortable setting a more sober tone in the dressing room," Cazeneuve writes.
Jagr wants to be hockey's ironman. "I'll play until 50," he says, "first in the Czech B League, then C League, then I'll make up my own league. As long as I can play on some rink, I'll be smiling."
You can also read the full story here.