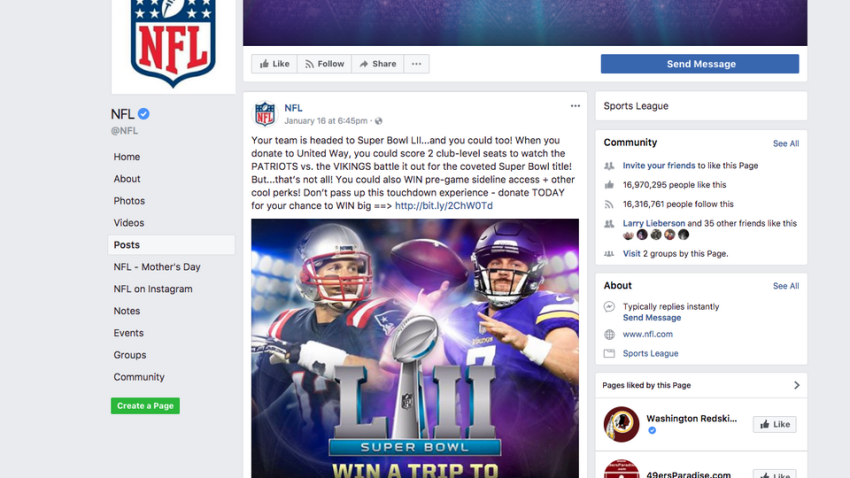 Somebody jumped the gun this week in a promotion for Super Bowl LII. Or did they?
This year's Super Bowl will feature either the Patriots or Jaguars taking on either the Eagles or Vikings. Unless there is some conspiracy afoot!
You see, there is an image going around that the NFL posted a promo of Super Bowl LII featuring only the Patriots and Vikings along with some head-scratching text. Just another attempt to disrespect the Birds!
Turns out the posting doesn't look like it came from an official NFL account. It included the following text:
Your team is headed to Super Bowl LII...and you could too! When you donate to United Way, you could score 2 club-level seats to watch the PATRIOTS vs. the VIKINGS battle it out for the coveted Super Bowl title! But...that's not all! You could also WIN pre-game sideline access + other cool perks! Don't pass up this touchdown experience - donate TODAY for your chance to WIN big
Offsides!
So are the conference championship games fixed?!? Unlikely.
NBC Sports Philly's Amy Fadool explains, "Just so you know...that site is not sponsored with the NFL nor United Way. It just is a prize website that uses prizes to get donations to the United Way. So that pic is fake. But the site is real."
This is a weird post @NFL ... don't you think? �� https://t.co/bkmo51WIuq pic.twitter.com/cy3pqwiuud
— Brandon Longo (@brandonlongo) January 19, 2018

Just so you know...that site is not sponsored with the NFL nor United Way. It just is a prize website that uses prizes to get donations to the United Way. So that pic is fake. But the site is real. https://t.co/auDpLrulhH
— Amy Fadool Kane (@amyfadoolNBCS) January 19, 2018

Copyright CSNPhily