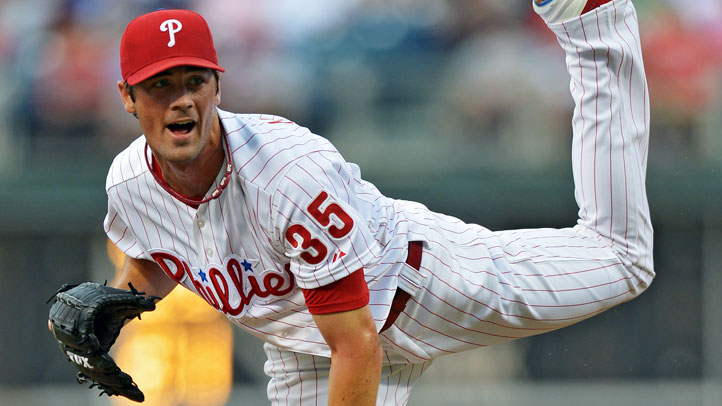 Cole Hamels recently got really, really rich, as the Phillies handed him a $144-million contract that will keep him in Philadelphia for the next six years.
Now the full details of that contract are out, thanks to Todd Zolecki of MLB.com, and we can examine in at a little finer scope whether or not the Phils made the right decision to hand the southpaw all of that cheddar.
First things first: it's hard to imagine Hamels hanging around Philly if he'd hit the open market. Not because they couldn't pay him (they did, obviously), but because someone could've paid him more. So factor in security when you take a look at these gaudy numbers, broken down year-by-year:
2013: $19.5 million
2014: $22.5 million
2015: $22.5 million
2016: $22.5 million
2017: $22.5 million
2018: $22.5 million
2019: $19 million club option or $6 million buyout or $24 million vesting option if Hamels does ALL of the following: a) 400 innings pitched in 2017 and 2018 combined, b) 200 innings pitched in 2018, and c) Hamels isn't on the disabled list with either a left shoulder or elbow injury when 2018 ends.
Hamels also picked up a $6 million signing bonus and, per Zolecki, will receive $50,000 for any All-Star appearance, $100,000 for a World Series MVP award, $50,000 for a LCS MVP award, $100,000 for a Cy Young award (plus $50,000 for finishing second in the Cy Young and $25,000 for third place).
Cole also gets to buy a bunch of seats the park. Yay.
As to the particulars, it's worth noting that the Phillies hope they pay out those bonuses -- Cy Young, postseason awards, All-Star, etc -- every single season of the contract. If they do, that means they're getting their money's worth.
The 2019 vesting option is also similar to what the Phils gave Roy Halladay and I like it: if Hamels is throwing 200 innings each when he's 33 and 34 years old (which he will be in 2017 and 2018), that means he's healthy and eating innings, and probably doing so at a reasonably high level.
Age is a nice factor for this contract too. Hamels is going to be in Philly until, potentially, he's 35, but it's not like this deal is going to take him into his Moyer-years or anything.
Grantland.com's Jonah Keri was kind enough to point out that the average market value of one win, for both pitchers and hitters, is around $5 million. (FanGraphs pegs the five-year value of one win at $4.7 million for starting pitchers.)
In Hamels' career, he's been worth (per FanGraphs) 3.8 Wins Above Replacement (WAR) in 2007, 4.4 in 2008, 3.6 in 2009, 3.7 in 2010, 4.9 in 2011 and, thus far in 2012, 2.9 wins above replacement. That's an average of 4.08 WAR in his full seasons, not counting this year.
For the Phillies to break even at $5 million per win, Hamels needs to produce 3.9 wins above replacement in 2013 and 4.5 wins above replacement from 2014 through 2018. The odds of him doing that in the latter portion of the contract aren't great.
Hamels is a good bet to cross the 4.0 WAR level this season (a very good bet actually) and if he keeps up that production over the next five years, until he's 31, he'll represent very good value for the Phillies. They'll be getting a bargain for his production, especially if having Hamels in their rotation makes them contenders in the division; with the Nationals and Braves representing difficult competition, every win counts.
It's likely that Hamels will end up not earning his money in terms of actual wins he produces by the end of the deal, but as long as his production doesn't fall off a cliff, it won't be an obscenely bad contract. This is particularly true, of course, if Hamels is slinging 200 innings a year in 2017 and 2018.
Plus, unlike other contracts the Phils have handed out recently -- ahem, Ryan Howard -- this deal actually starts the year after Hamels signed it.