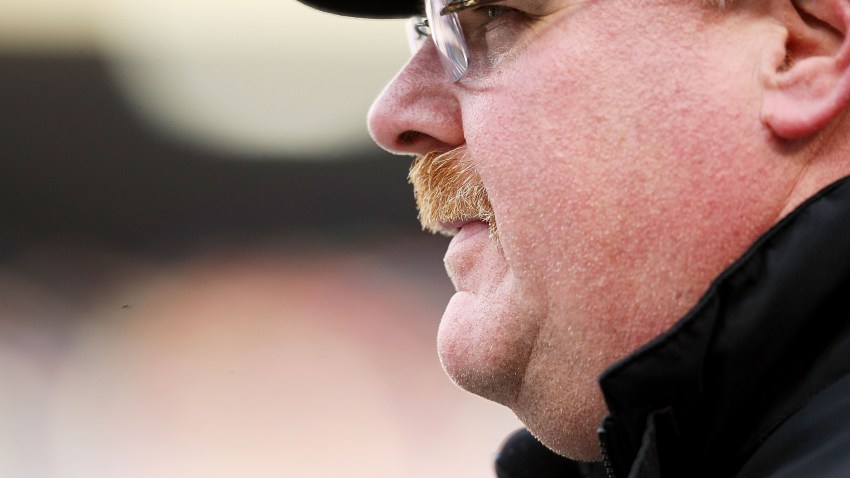 One of my favorite stories about Andy Reid is the one about his coaching binder.

It goes something like this:
As an up and coming assistant coach on Mike Holmgren's staff, Reid saw that his mentor kept a notebook with everything from basic football philosophy to detailed notes on training camps schedules. At some point, Holmgren's notes outgrew his notebook, so he copied it into a new form and threw away the old one. Reid plucked it out of the trash.
By the time he was interviewing for the head coaching job in Philadelphia, Reid's binder had ballooned to six inches thick. All that detail and all that preparation before he even had a top job -- it was impressive to say the least. And, like the Reid we know today who still hasn't lost a game after the bye, he didn't let that preparation go to waste.
Reid took over a moribund team and transformed it, improving it each year for six straight. He found the right quarterback, hired the right assistants, drafted well, and made smart free agent acquisitions. 5-11, 11-5, 11-5, 12-4, 12-4, 13-3. Four straight NFC Championship games, one Super Bowl appearance. It was masterful, if ultimately incomplete.
The binder full of notes worked almost to perfection during those first six seasons. But six seasons later, I wonder how much of that binder is left. It's doubtful that Reid ever had a plan for what to do after the climax of 2004. Since then, he's mostly been spinning his wheels.
Keeping an NFL team competitive this long is very difficult, but Reid and company have managed. They've kept the team at or above .500 every year after 2005 and reached the playoffs four times. But the team also hasn't improved during that span. Some of the same problems remain, some have changed, but at the end of the day Reid hasn't lived up to the standard of constant improvement he set in his first six seasons.
When the Eagles have brought in top free agents over the last few years, one of the things they almost invariably mention is continuity. Reid's long tenure and the relative stability of the front office is comforting. The Eagles "are always competitive" and "always have a shot to win it all."
That's certainly better than never having a shot, but continuity also implies a certain complacency and stagnation. The Eagles of the first half of Reid's tenure marched forward relentlessly, like a man who pushes himself a mile further each day, intent on completing a marathon. Those Eagles didn't have continuity, they were aggressively ascending.
Those Eagles were like an army growing in strength and resolve as it approached its target. Today's team seems to have set up camp outside the enemy's capital, in the sixth year of a siege that shows no sign of ending. Sometimes they launch an attack, sometimes they just sit and wait. They're always close to taking the city, but the progress and the urgency is gone.
I've long been a supporter of Reid, and I still believe he can win a Super Bowl. But the road doesn't get easier the longer you stay in a job and that urgency slips away. He may have missed his window in Philadelphia.
Look at the list of Super Bowl coaches over the last 20 years, they average just 4.3 seasons of tenure as the head coach of their team. Only Bill Cowher and Joe Gibbs have managed to win it all after their 6th season.
To some degree there's a bias here, because coaches don't often last much beyond their 6th season, if they make it that far. But list the longest tenured coaches and you don't see many Cowhers. Andy Reid, Jeff Fisher, Brian Billick, John Fox. They last and they last and ultimately never find that elusive second chance. Whether that's because they lose their edge, because they can't find the right personnel, or because they can't replace coaching talent, I don't know.
The Eagles front office has bungled the 2011 season in multiple ways. With better coaching and one or two different acquisitions, maybe they're off to a 4-0 start. But perhaps those mistakes aren't one-off blunders. Perhaps they are indicative of a franchise that's been running in place for six years. And if that's the case, it's probably time to clean house and start over.