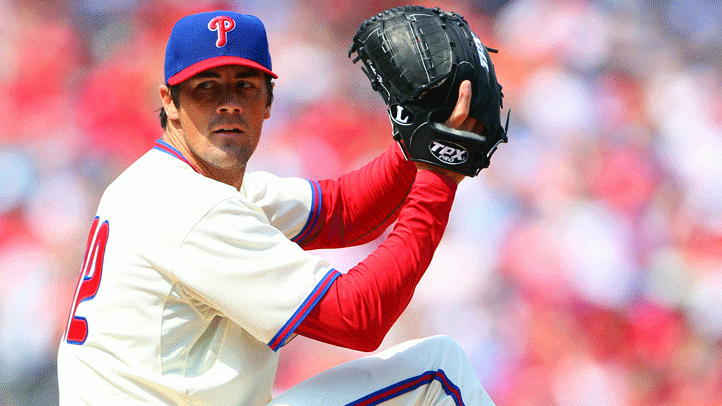 For a baseball player, I imagine that there are few things worse than losing a game on a getaway day. With a long road trip (and travel) looming, a notch in the loss column is the last thing you want to deal with. After all,. You don't want to spend a 3,000 mile plane ride thinking about how, if you only made that one play or knocked in those two base runners, then the outcome would have been different.

Obviously, that feeling is even worse at the tail end of a sweep to your division rivals, who came into the season with expectations of being the punching bag of the league.

Thankfully, the Phillies avoided any such feelings on Sunday afternoon, when they dropped the Mets to salvage the series before heading out on a ten game road trip on the west coast.

They did so on the strength of a brilliant Cole Hamels start, who allowed two earned runs while striking out ten in seven innings. He was also given some rare (but late) run support, thanks to a two-run seventh inning, when Ty Wigginton tied it with a sac fly, followed by a go-ahead double from Laynce Nix.

And while losing a series to the Mets isn't anyone's idea of a good time, I insist that, hey, it's not so bad, especially in April.

The Phillies are, if I may borrow something from Arizona Cardinals coach Dennis Green, who we thought they were. They are going to pitch better than most, and they are going to scrape by with whatever offense they can come up with on any given day. And even though that formula sounds horrifying, it's the way it's going to be, at least for a little while.

It would be nice if the Phillies could put up five or six runs a game, but it's no longer 2007, and they'll need to cobble together a bunch of singles and hope that the other team makes a mistake while needing their starters to allow less than three runs per game. A tall order, but this is the hand that they've been dealt.

In light of that, there were a few things that happened this series that I'd like to note:

Freddy Galvis is fun to watch. Since the Pittsburgh series, nary has a game gone by in which Galvis has not had a hit, and in that span, the 22-year-old has a pair of doubles, a homer, five RBIs and a line of .353/.353/.647. Sure, it's not going to last, but it's exciting to see a youngster like Galvis contribute on offense, while also playing tremendous defense.

Cliff Lee got his one bad start out of the way. His start on Friday night (7 IP, 4 ER) wasn't anything pretty to look at, but it's safe to say that that is the exception, not the rule. If his 2012 is anything like his 2011, then we should expect him to now allow a run until sometime in June.

Cole Hamels needs to get paid. The youngest Ace showed exactly why Ruben Amaro needs to hand him a contract on Sunday, when he stifled the Mets over seven innings en route to his first win of the season. Sure, he allowed a homer in the first inning (it wasn't a bad pitch), but he kept his composure and proceeded to own the Mets the rest of the way.

With their first long road-trip looming, a win was just what the Phillies needed. Now, if only they could start bunching them together.