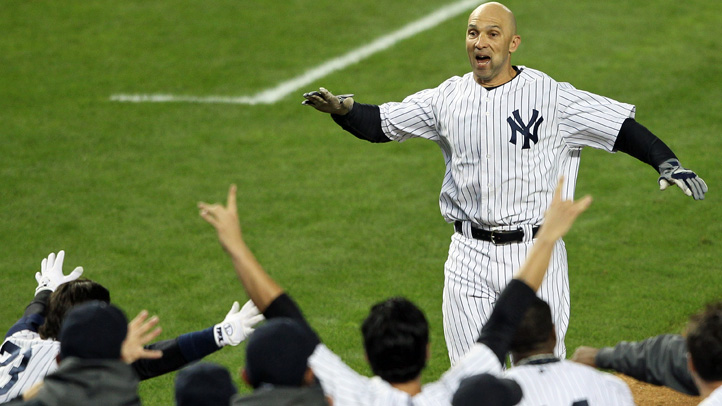 In case you missed it (or just weren't watching as you lick your wounds after the Phillies missed the postseason for the first time since 2006) former Phillie Raul Ibanez became an October legend Wednesday night.
Rauuuuullll replaced the struggling Alex Rodriguez (yes, that A-Rod) and hit a pinch-hit, game-tying homer in the bottom of the ninth inning against the Orioles. The former Phillies' All-Star then cemented his Mr. October moment when he went yard in his next at bat to give the Yankees the 3-2 win and put them on the brink of knocking out the O's in the best-of-five series.
All it took was three pitches for Raul to become the Reggie Jackson of the generation of Yankees fans.
But how are Phillies fans supposed feel about all of this, what should it mean to us? Should we be rooting for the Yanks since Raul -- a player beloved or loathed at times in his three seasons in Philly -- now wears blue pinstripes?
I think that's a tough pill to swallow for Phillies faithful to root for the Yanks even if those fans still rock their Raul T-shirts.
At 40 years old and after playing only part-time this season, this is likely Raul's last shot to win a world championship. But there is a former Phillies' All-Star in the opposing dugout that is also likely getting one last shot to finally win a World Series ring.
Jim Thome, who hit a home run for the Phillies as recent as June 23, at 42 is DH-ing for the O's. So far he has looked his age, going 0-for-8 with three strikeouts in the ALDS. But with right-hander Phil Hughes on the hill for New York Thursday, Gentleman Jim will likely get at least one more game to get off the snide.
I know it's tough for us Phillies fans to root for anyone else, but with Raul and Gentleman Jim both still alive in the playoffs we can at least root for the man if not the uniform this October -- crack a smile when we see class acts like these two succeed for other teams rather than hold animosity that they aren't doing it anymore for us.
It's just a thought and it sure beats rooting for any National League team!