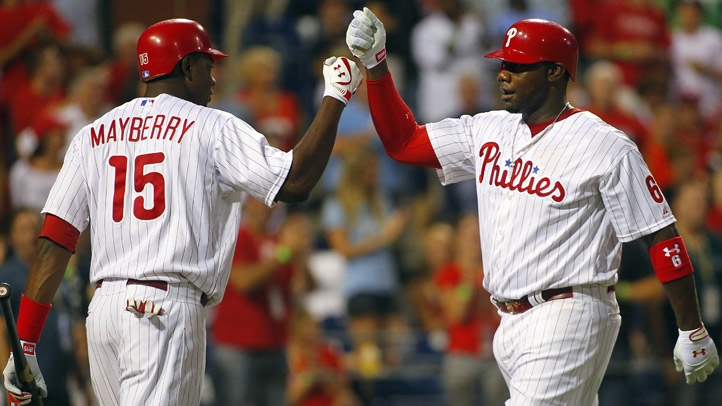 Since the beginning of September, Ryan Howard has been a shell of a baseball player. Actually, maybe calling him a "shell" is too kind, because a shell actually has some physical mass. If anything he's been more like a ghost, because he might as well not even be on the field. He can just lay his bat next to home plate and let the pitcher throw to an empty batter's box, and it will probably come close to equaling his line of .193/.277/.263 in his last 15 games.

It's actually been so bad that opposing teams are actually walking batters to get to Ryan Howard. Just this month, Chase Utley has been intentionally walked four times – including twice in Sunday's series finale with the Houston Astros. If that doesn't speak volumes about how other teams view you, then I don't know what does. A year ago, it would have been considered a borderline risk to intentionally walk a player to get to Howard, but this year? Not so much.

To be fair to Howard, it's not like he is a healthy, 27-year-old. He's 32-years-old and he's coming off a pretty horrific injury that affects his lower half. And when you're a power hitter with a large frame that carries a lot of weight, the impact is going to be pretty significant. So for that, we can give him a bit of a pass. He's got to get his strength back, and until he does that, he's going to be a really easy out when he steps into the box.

But the one thing that boggles my mind a bit is that the Phillies insist on starting him. Every. Single. Day. The last time he didn't start a game was on August 15, when they faced the Milwaukee Brewers. But since then, not a game has passed that Howard has not started. The team has had two days off since, but that hasn't prevented Charlie Manuel from running his $125MM investment out there whenever he's had the chance, despite the fact that he's struggling.

At this point, and in spite of their recent winning ways and their outside shot at the second Wild Card, the Phillies really need to starting thinking about next year, especially as it pertains to the health of their star players. It's not like you are losing anything by sitting Howard in favor of, say, Darin Ruf, but it is rather silly to keep running him out there, especially against left-handed pitchers, who are holding him to a woeful .516 OPS in 79 at-bats this season.

It might be a moot point, because there are all of 14 games left to go in the season, so giving him three or four of those games off might not have too much of an impact. But still, when you have a guy coming off a serious injury like Howard, you must exercise caution, especially when you are considering the future of the team.