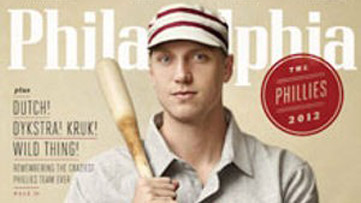 We're getting close to the opening of the regular season, which means it's time for magazines to start rolling out their big baseball preview issues, and Philadelphia Magazine decided to use the occasion to show off last year's midseason trade prize Hunter Pence in a fetching Phillies retro uniform.
No sport does the retro look better than baseball, and Pence's uni shows off why:
• Painter's caps! Rocking a retro baseball uni is the only acceptable way in which a man who isn't a painter can wear a painter's hat in 2012. Normally, a painter's hat in public makes you look like a meth dealer. But on Pence? MAGIC.
• Extremely long abbreviations! We take for granted the fact that ESPN has taken great care to shorten every sports city down to three letters: CHI, BOS, JAX, REY (That's for Reykjavik). Back in the old days, people were far less bold about shortening things, which is how you get "PHILA" appearing across Pence's chest. I bet Pence would fit right in back in the old days, playing against the likes of NEW YO, DETRO, and PITTS.
• Clunky belts! I have to think sliding on your belly into second can't be pleasant while wearing one of those belts. Who's to say it wouldn't catch in the dirt, then drag your pants clean off as you're sliding?
• No undershirt! Just a bunch of scratchy wool chafing at your nipples all day long in the hot sun.
• Pants only going down to your knees! You can't see it on the cover, but any good retro uni has to feature the Jim Thome old school look (which Pence already subscribes to), with pants going just past the knee and your socks riding way high. THAT is a proper baseball look. Call me an old fuddy duddy, but I hate the baggy baseball pant trend. It just doesn't look anywhere as cool as high socks. It's like jogging the base paths with a beret on. It just doesn't fit.
So cheers to you, Hunter Pence, for showing off a fine and fierce retro look. Be sure to grease those nipples before heading out to bat.