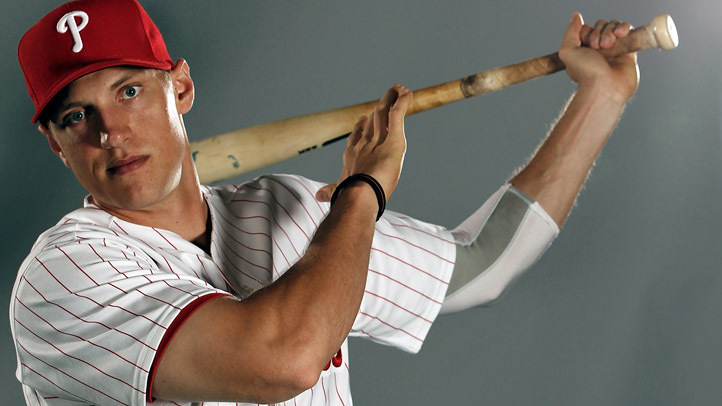 Hunter Pence and the City of Brotherly Love might just be the perfect match.
The Phillies right fielder is this season's cover boy for Philadelphia Magazine's annual Phillies preview issue. And just like last year's featured Phillie, Cliff Lee, Pence has a quickly become a Phillies fan favorite after being added to the Phillies for a postseason push.
Per the sub-headline from the most recent Philly Mag article:
He strives, he craves, he hustles. He's still not over last year. And he's hungry, literally and figuratively. In other words, Hunter Pence isn't just a Phillie now -- he's a Philadelphian. Which may explain why we've fallen for him so hard.
It's also sure to get any fans that haven't fallen for Pence yet to fall for him in wearing that throwback uniform on the magazine cover.
But when it comes to the love it has to do with more than just looks.
With injuries to former fan favorites like Ryan Howard and Chase Utley, Pence is filling the void of being that guy who can go yard at any moment. His hard-playing style is reminiscent of Pete Rose or even the 2007-version of Utley, his love for the game reminds us all of our own childhood and his goofy smile makes a guy like Jimmy Rollins look way too serious.
Gonzalez's Philly Mag article breaks it down perfectly:
...despite the chiseled exterior, something about Pence's gait and aw-shucks attitude is disarming. Goofy, even. This intangible works as camouflage. It softens him, transforms him, in a way, from a celebrity to something on the order of neighborhood rascal. "There's so many ways to explain that word 'goofy,'" (Shane) Victorino says. "For him, it's his personality. His swing is one thing, that's goofy. But it's his personality, too. That's just who he is. He's goofy. People love that about him."
Just imagine how much more he would be loved if he smiled while holding the World Series Trophy on the back of a truck driving down Broad Street.