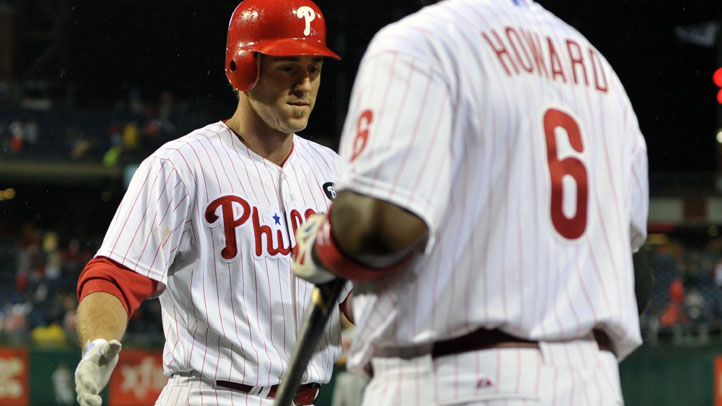 At 23-23 and four games back of the division-leading Nationals, the Phillies are hanging around, treading water in the National League East -- hoping that they can get some of their higher-priced bats back in time to make a run.
The two most prominent names everyone's holding their breath for are first baseman Ryan Howard and second baseman Chase Utley. And, according to Bob Brookover of Philly.com, Howard's "making progress" (as is Jim Thome) while Utley remains "limited."
Brookover reports that there "is still no timetable" on any of the three sluggers, but Howard and Thome are down in Clearwater, Fla. and "moving forward." Howard, specifically, took part in a "simulated game," according to assistant general manager Scott Proefrock.
"It's a chance for him to see some pitches with some velocity rather than just having a coach throw to him," Proefrock said.
Thome's currently working in extended spring training games -- Brookover reports that'll probably be Howard's next step, which means he's still a ways off from playing. But not as far as Utley, who's still likely targeting a late-June return at the earliest.
Utley's apparently hitting the ball well, but is struggling in the field with the pain that comes when he fields balls.
"I think it's a matter of him feeling like he's ready to go play in a game," manager Charlie Manuel said. "I think it's a matter of him being healthy enough and thinking that he's ready. I think we've been through what we went through with him last year and we definitely want to make sure that he's ready to play and that he can endure some of the pain or (have) no pain if possible.
"That's what we're working for, to have no pain playing. I think when you talk about how much he plays and where he plays, I think as long as he has pain, it's still the same."
So ... yeah ... not so great after all. Utley's limited and Howard/Thome are making progress. It's good news, because it's not a big setback. That would be disastrous news.
The problem for the Phillies is finding the right balance between not rushing these guys back, staying within striking distance of the division lead and also ensuring that they can properly contribute when they return.
It's easy to get impatient and want Howard and Utley back right now, but as long as the Phillies can see the Nationals -- or whoever -- ahead of them, patience is a virtue.