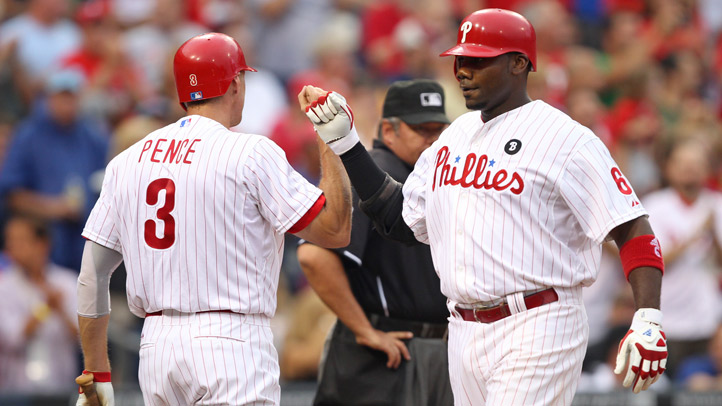 Ryan Howard homered and drove in four runs and Roy Oswalt pitched seven solid innings to lead the Philadelphia Phillies to an 11-3 victory over the mistake-prone Washington Nationals on Saturday.
Oswalt (5-7), making his second start since coming off the 15-day DL Aug. 6 with a back injury, gave up three runs on six hits in seven innings. He also earned the victory in his last start despite tying his career high by allowing 12 hits in a 3-1 win at San Francisco Aug. 7.
This time he was much sharper although he didn't have to be too fine thanks partly to Washington's shoddy fielding, as the Nationals committed three costly errors that led to seven runs. Oswalt settled down after a two-run second inning and finished with five strikeouts and just one walk.
John Lannan (8-8) surrendered seven runs, but just one earned run, in three innings on four hits while walking five and striking out one. He did not come out to pitch the fourth due to a possible injury.
Lannan may have hurt himself on a play in a wacky third inning when the Phillies scored five runs, but just one that was earned. With the bases loaded, Wilson Valdez hit a chopper in front of the plate. Lannan charged and dived for the ball, retrieving it and in one motion scooping it to catcher Wilson Ramos for a force out at the plate.
He got up slowly and stayed in the game to face three more batters, but did not come out for the fourth.
Lannan's struggles against the Phillies continued, as he dropped to 1-11 with a 5.84 ERA lifetime in 15 starts against Philadelphia.
Washington's Michael Morse, who sat out Friday's game after being hit on the elbow by Chicago's Ryan Dempster Thursday, returned to the lineup and went 2 for 4 with a double and an RBI for the Nationals.
Washington's troubles in the third started when Ian Desmond threw high to first on Shane Victorino's grounder to lead off the inning. Chase Utley followed with a seeing-eye base hit up the middle to put runners on first and third. Howard then singled home
Victorino and Utley scored on Raul Ibanez's groundout. With Howard on third and the bases loaded, Lannan got the second out on the force at home.
Lannan then walked Oswalt with the bases loaded to allow another run to score, and the Phillies scored two more when Jimmy Rollins hit an infield single that scored Carlos Ruiz and also Valdez, who reached from second ahead of the throw of second baseman Danny Espinosa to make it 7-3 Philadelphia.
The Phillies tacked on another unearned run in the sixth off reliever Collin Balester.
Rollins reached on a wild pitch on the third strike and, after Victorino singled, Morse booted Utley's grounder to load the bases. Howard grounded to first for a possible double play, but Ballester dropped the return throw from Desmond to allow Rollins to score and make it 8-3 Phillies.
Howard's two-out, two-run homer in the first put the Phillies up 2-0, although both runs were unearned after second baseman Danny Espinosa began the game with an error on Rollins' grounder, failing to make a backhanded grab on a high bounce.
The Nationals responded with a pair of runs in the top of the second, on RBI hits by Laynce Nix and Desmond.
Oswalt retired 10 of the next 11 batters.
The Phillies tacked on three runs in the eighth on RBI hits by Hunter Pence and Ruiz, and Ibanez's sacrifice fly.
---
Fan, follow and download: Get the latest from NBCPhiladelphia.com anytime, anywhere. Follow us on Twitter, Facebook and NBC Philadelphia. Sign up for our sports newsletter. And, get breaking news delivered right to your mobile phone -- just text PHIBREAKING to 639710 to sign up. (Message and data rates may apply.)
Copyright AP - Associated Press