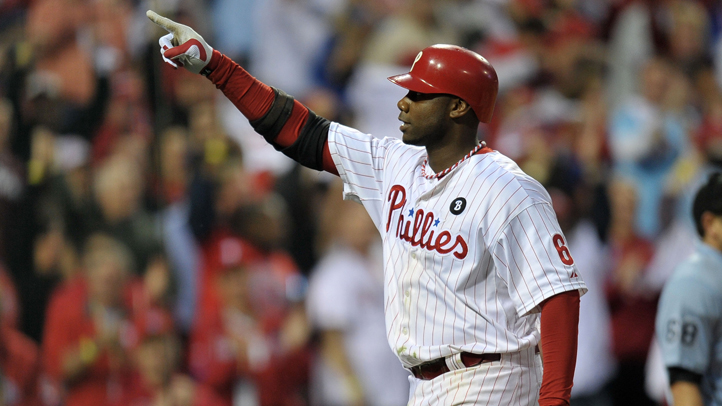 UPDATE: Ryan Howard was activated and insterted into the Phillies starting lineup Friday against the Braves.
---
The Big Piece is expected to be back with the Phillies as they open a weekend series Friday night against the Braves.
Ryan Howard should likely be back in the Phillies starting lineup Friday, according to general manager Ruben Amaro, Jr.
After Thursday's crushing loss to the Mets, Phillies general manager Ruben Amaro said Ryan Howard will rejoin the Phillies on Friday, be examined by a team doctor, and is "likely to start" the series opener against the Atlanta Braves.

"Excited to be back in Philly tomorrow," Howard tweeted.
The Phillies have been a mess basically since Howard ruptured his Achilles on the final out of the team's disappointing NLDS loss last October. Since then, Howard has battled various setbacks on his way back to the Phightins.
Without their perennial 100-RBI, 30-homer guy in the middle of the order, the Phillies offense has actually played OK but without the team's normal power numbers (they are in the middle of baseball in homers, RBIs and slugging percentage).
Howard appears ready after posting a 1.250 OPS with a homer and six RBIs in four games with the Triple-A IronPigs.
The return of Howard, while a boost, could be too late for the Phillies. Thanks to subpar pitching -- especially by the bullpen (a 4.68 ERA) -- the 37-47 Phils find themselves in the basement of the National League East 13 games behind first-place Washington and 8.5 games back in the wildcard.