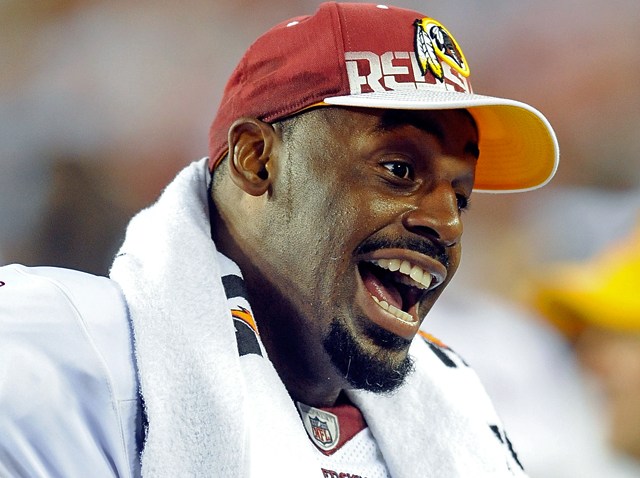 Philadelphia Eagles quarterbacks past and present will meet in Philadelphia when the Washington Redskins arrive this afternoon.
It will be the first return game for former Eagles quarterback Donovan McNabb since he signed with the Redskins. Yet his homecoming has been overshadowed by Michael Vick's crowning.
With the Redskins struggling mightily to adjust to new defensive coordinator Jim Haslett's 3-4 defensive scheme, fewer people are asking whether Philadelphia made the right decision to trade McNabb. The 1-2 Redskins have enjoyed just two touchdowns from McNabb.
Though both Vick and McNabb have about 61% completion rates, Vick has comparable yards and 6 touchdowns, despite the fact that he has started one fewer game than McNabb.
The quarterback comparisons don't tell us a lot about how today's game will go. For that, we must look at the defense. The Redskins' transition to the 3-4 has taken a respectable defense and turned it into one of the worst in the league.
The talented Brian Orakpo is playing better than his two sacks for the season suggest. The Redskins' season-starting win against the Cowboys can largely be attributed to Orakpo -- if indirectly. With starting Cowboys tackle Marc Colombo injured and backup Alex Barron forced to play the mismatch, the Cowboys were left without an answer to the Lombardi Award-winning former Texas Longhorns linebacker. The answer the Cowboys came up with Orakpo was repeated holding violations -- one after another -- which may have saved quarterback Tony Romo's life, but cost the 'Boys the game.
Vick may have his way with the Redskins this afternoon. Despite some noteworthy Redskins efforts on the pass rush, the Redskins defense has no good answer for attacks by air: They've given up 5 touchdowns and more than 1,000 yards passing. Vick is still a strong scrambler, with 170 rushing yards over 23 touches, but as a quarterback he poses a more diverse threat now than he did to start his career. The Redskins should expect an aerial assault, but they may not have any answer for it. The Eagles have no turnovers so far this season, and there's nothing in the Redskins' arsenal that says Philly will start slipping today.
Meanwhile, Washington must once again try to get a rushing game established. Running back Ryan Torain picked up a few carries in last Sunday's loss to the St. Louis Rams -- one of the all-around worst teams in the league -- and head coach Mike Shanahan said that Clinton Portis will be starting in today's game. But Shanahan leans on McNabb. In three different three-and-out series possessions against the Rams, the 'Skins turned to McNabb on third down.
It's likely that Portis will see more success today as a pass blocker than as a rusher. If the Redskins have any hope against the Eagles defensive blitz (which McNabb knows all too well), he'll need Portis up front.