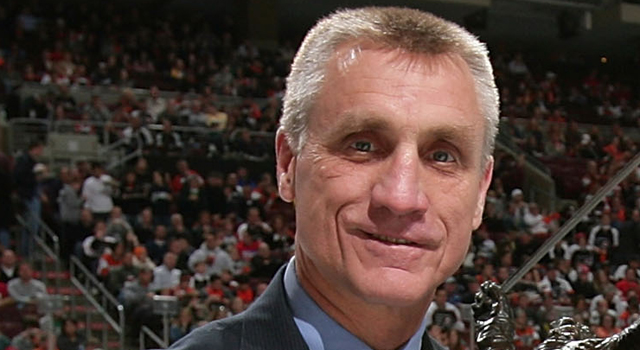 Flyers General Manager Paul Holmgren isn't going anywhere.
The Flyers gave General Manager Paul Holmgren a three-year contract extension Tuesday.
Holmgren took over as GM of the Orange and Black in 2006 and has helped turn the Flyers into one of the NHL's top teams. Philadelphia lost in the Stanley Cup finals last season, and leads the Eastern Conference this year with 63 points.
"I'm particularly proud of the job Paul Holmgren has done with our hockey club and excited to offer him this three-year extension," said Comcast-Spectacor Chairman Ed Snider. "He continuously finds the right opportunities to improve our team and get us closer to our ultimate goal of winning the Stanley Cup."
"I am extremely grateful to Mr. Snider and to Peter Luukko for this contract extension," said Holmgren. "I look forward to working closely with them, the coaches and our players in pursuit of our goal of winning the Stanley Cup."
Holmgren has acquired stars like Danny Briere, Chris Pronger and Kimmo Timmonen. He also hired coach Peter Laviolette last season. Laviolette is a co-coach in this year's All-Star game.
"Paul has done and continues to do a fabulous job in putting together a very competitive team on the ice for us," said Comcast-Spectacor President Peter Luukko. "We felt based on many of Paul's recent successes, including last season's run through the Final and the tenacity of our team this season, that this was the right time to offer him a contract extension. This sends a message to our fans, players and coaches that we are committed to winning and our organization will be stable for years to come."
The Flyers went on to beat the Washington Capitals 3-2 in overtime Tuesday night.
---
Fan, follow and download: Get the latest from NBCPhiladelphia.com anytime, anywhere. Follow us on Twitter, Facebook and NBC Philadelphia. Sign up for our sports newsletter. And, get breaking news delivered right to your mobile phone -- just text PHIBREAKING to 639710 to sign up. (Message and data rates may apply.)
Copyright AP - Associated Press