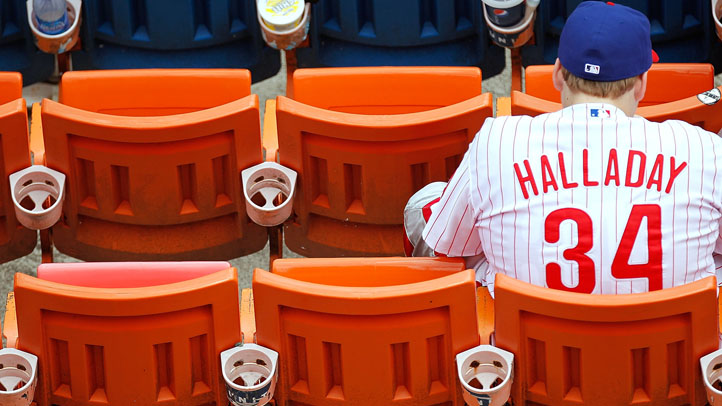 It's been two weeks since the Philadelphia Phillies were ousted from the 2011 postseason, when they were unceremoniously bounced by the St. Louis Cardinals, who are riding one of the greatest late season runs of the last decade.
Losing in the way that they did; that is, with Roy Halladay pitching one of the greatest games of his life and the offense – which never got enough credit – getting shut out by Chris Carpenter, didn't make things any easier. If there is such a thing as a "good" loss that eliminates a team from the postseason, I've yet to hear it. Regardless, the Phillies' season ended too soon.
And it's high time for the fans to get over it and watch the
World Series
.
I know it's awfully unpopular (just ask Shane Victorino) to have a somewhat pleasant disposition following the loss in the NLDS, but color me over it. It's just a game, and even though our heart strings are attached to it, maybe we shouldn't cling so tightly, because it's preventing some of us from enjoying some truly great baseball.
Even if you're not a fan of the teams in the Fall Classic, and even if your team was eliminated by one of the final two, you can still derive some pleasure from it. After all, if you've suffered through six months of the regular season (for Phillies' fans, the regular season is incredibly laborious because it's simply a precursor to the playoffs), then why not invest another month?
I don't view the postseason through the "coulda/shoulda/woulda" frames that some do, because there is nothing that can be done to change the fate of the Phillies, so it's a moot point and the action we have on the field should be enjoyed. In a week or so, baseball is going to be gone for the winter, and that feeling will be far worse than what any of us is going through right now.
It's not like you even have to root for any specific team, either. I'm rooting for the Texas Rangers, but I'm rooting even harder against the St. Louis Cardinals. Nor does it have to be an emotional investment. Sometimes, baseball without any loyalty attached can be a very rewarding experience.
After the roller coaster ride that was Game Three of the NLDS (the one where Ben Francisco earned his entire year's pay), it was refreshing to watch the other games on that night, because there was zero involvement. I didn't care who won, I was just happy to be watching a game where I wasn't on edge for three hours.
Watching two teams battle it out might not be your idea of fun, especially when your team isn't in it, but we can, at the very least, appreciate the little baseball that we all have left.