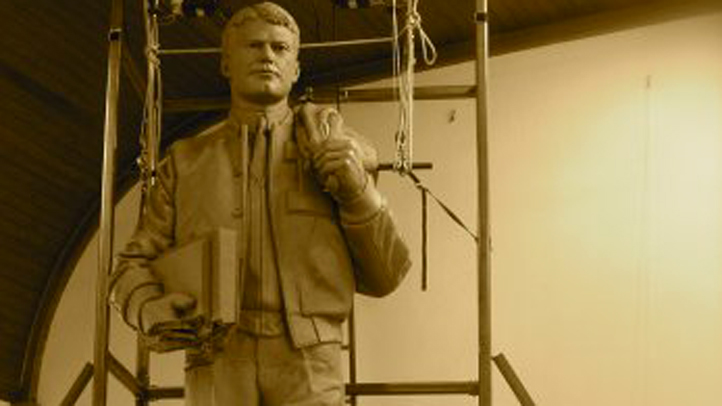 Clear out your calendar for Sunday, August 14th, because that's the day the Phillies are going to unveil a statue of the late Harry Kalas in a special ceremony, as part of the team's annual alumni weekend festivities.
"This will no doubt be an emotional day for the Phillies and we are extremely grateful to the many fans who contributed to this effort," said Mike Stiles, Phillies Senior Vice President, Administration and Operations. "We look forward to joining everyone on August 14 in honoring our beloved colleague and friend, Harry Kalas."

"Harry gave all he had to the fans here in Philadelphia," said Nowlan. "For 38 years he treated us with nothing but love and respect. Being able to play a small part in cementing his legacy in our city and beyond has been a dream come true."

The 7 ½-foot bronze statue will be located on the Main Concourse behind Section 141.
Seeing Kalas' statue unveiled will be bittersweet for two reasons. The first, of course, is that he's no longer with us. But the second is that Kalas' statue will serve as a constant reminder that the world is running out of golden voices like his. We are on the verge of living in the Dark Ages of Play By Play Announcing. I don't know why we haven't been able to find younger announcers that have great sports voices. Maybe it's something in the water. Maybe it's the effect of "Glee" being popular. All I know is that we have yet to find future replacements for the Kalases and Scullys and Summeralls of this world, and that depresses me. Because the gift of someone like Kalas is that their voice can make ANY game, even a random one in the middle of May, feel special. They elevate the sport. They canonize it as you're experiencing it. Joe Buck does NOT do that, and I don't know why we can't find more people who can. Kalas was among a dying breed, so pay your respects next Sunday, because soon all the golden voices will be gone.