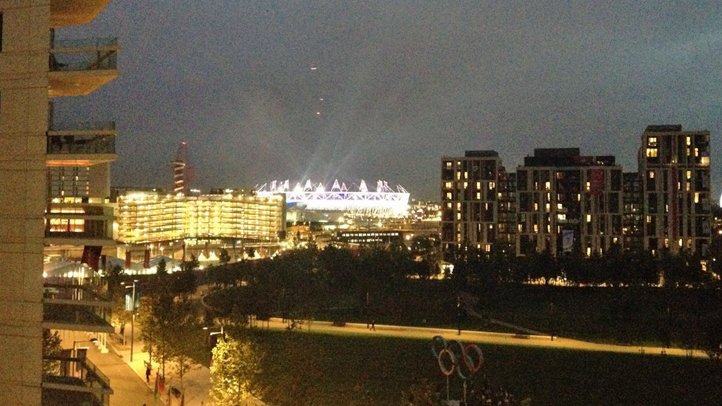 Plenty of athletes miss the Olympics Opening Ceremony -- the Women's soccer team skipped the London Opening Ceremony since they are in Glasgow for their second game and local swimmer Brendan Hansen skipped the festivities to get a good night's sleep.
"Olympic Stadium from my room in the village. Off to bed with a pretty cool night light. #TeamUSA," Tweeted Hansen right as the festivities began around 9 p.m. London time.
Hansen, trying to finally win 100-meter breaststroke gold in his third try, starts his journey just before noon London time (6:53 a.m. Eastern Standard Time). If Hansen makes it through the heats -- he posted the fifth best qualifying time (59.68) -- he will swim in the semifinals at 8:30 p.m. London time.
The final is set for 8:08 (3:08 EST) Sunday.
While Hansen sleeps to prepare for his event, fellow Philly-area Olympians Carli Lloyd, Christie Rampone, Heather Mitts and Nicole Barnhart got dressed in their Team USA unfiroms anyway despite being in Glasgow, Scotland rather than in London as they prepare for their game against Colombia at 5 p.m. London time (noon EST) Saturday.
---
Text OLYMPICS to 639710 for text alerts on results, Medal Counts, breaking news and a daily "Who to Watch" guide during the Summer Games.
Sign up for our Olympics Newsletter.
Follow our 40 Local Olympians on NBC10 and on Twitter.
WATCH THE OLYMPICS LIVE ONLINE.
And download our Olympics APPS.
#NBCOlympics #Olympics #London2012