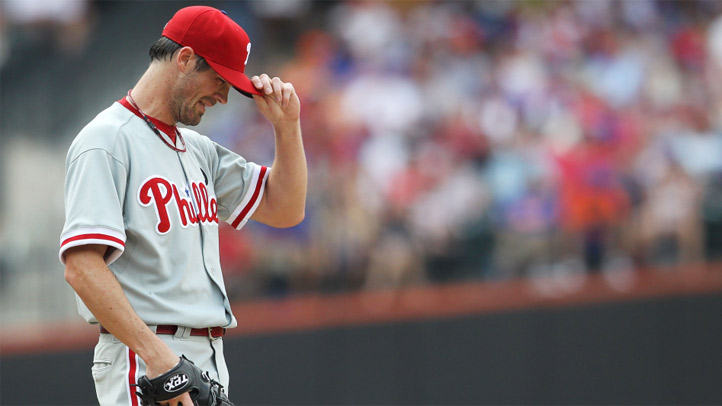 Phillies fans making the trip south this weekend to Citizens Bank Park shouldn't expect to see Cole Hamels take the hill.
The Phillies lefty will miss his start Friday, tweeted NBC10's John Clark.
"Hamels will miss next start and the Phils will see from there. Inflammation in shoulder. Phils being cautious," Clark tweeted Tuesday afternoon.
The Phillies made it official by dumping Hamels out of the probable pitchers section of the team's website instead moving Roy Oswalt -- a pitcher who has battled injuries himself -- up a day to pitch against Washington in Nationals Park Friday night.
Moving Oswalt up is no biggie with the Phillies having back-to-back days off thanks to Sunday's rain out and Monday's scheduled day off. But come Saturday the Phillies need to make a decision. Expect to see Kyle Kendrick step back into the rotation and then see the Phillies return to No. 1 ace Roy Halladay Sunday.
As for Hamels there is supposedly no structural damage so the move to keep him out of the rotation for now should be taken as "precautionary" like Clark said. But if he misses his turn next week some red flags should go up as the Phillies steamroll towards the playoffs. Let's just hope that MRI Cole had really did just show "inflammation" and nothing more considering his 172 innings pitched trails only Halladay and L.A.'s Clayton Kershaw.
"We will see how he progresses," General Manager Ruben Amaro, Jr. said.
"We got a long way to go until the end of the season so we just want to careful with it," Amaro added.