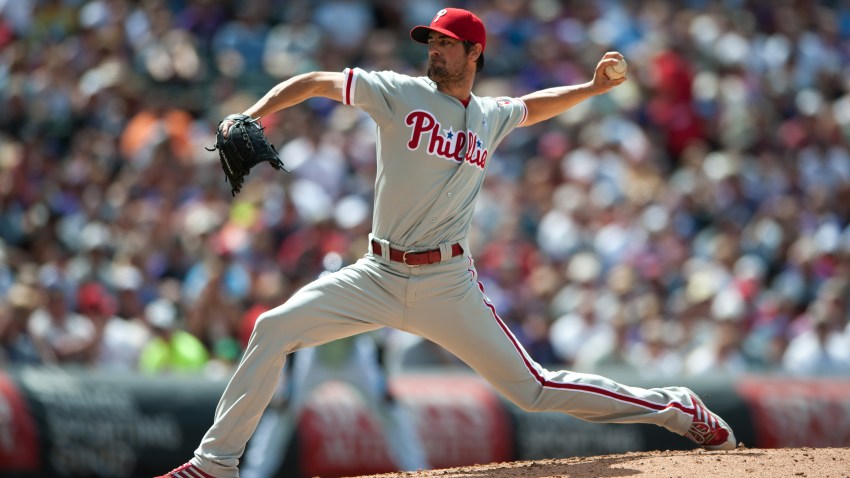 The Phillies dropped another one on Sunday, when they failed to do much of anything against Colorado starter Jhoulys Chacin, who allowed a pair of runs over eight and two-thirds innings. That, combined with Cole Hamels allowing three runs over seven innings, led to another series loss for the Phillies, who find themselves four games under .500 on the season.

Of course, the loss wasn't the biggest story, but rather the fact that starter Cole Hamels was saddled with his tenth loss of the season. In 15 starts in 2013, Hamels is 2-10, while the Phillies are 2-13. While Hamels has been off his game this season, he's not been, by far, the worst pitcher in the National League.

That right there tells you all you need to know about the merit of win-loss records as it pertains to the actual talent and skill level starting pitchers. It's something that has been debated for quite some time between the traditional stat guys, and those that eschew the more advanced approach to player evaluation. There is no clear end in sight to that particular battle, but everyone can agree on the absurdity of Cole Hamels being 2-10 so far in 2013.

While Cole hasn't been himself at times this season, he's really been very good since he started the season by allowing 13 earned runs in his first ten innings of work. Since his third start of the season (coming into his start versus Colorado on Sunday), Hamels has a 3.54 ERA in 12 starts. He's held opposing hitters to a .701 OPS, and he's improved upon his so-so walk and strikeout rates as the season has gone on. And even though he has allowed five or more runs twice in that span, he's been a truly excellent pitcher, and has eight starts where he's allowed two runs or fewer. Unfortunately, he's 2-4 in those games, while the Phillies went 2-6.

And that's not even counting Cole's performance on Sunday, where he allowed three runs over seven innings, while walking two and striking out seven. That's a good start on its own, but to do that in the hitter's heaven that is Coors Field just makes it look even better. Despite that, he still took the loss, as the Phillies managed only a pair of runs to close out the series in Colorado.

2013 has not been Cole's finest season, but you can't look past the fact that he has allowed three or fewer runs in 11 of his 15 starts. Under most circumstances, that's going to put your team in a position to win. Despite that, he finds himself with a 2-10 record, while the Phillies are 2-14 in his starts.

A big reason for that is Cole's lack of run support, which ranks as second-lowest in the National League at 2.80 runs per game. He is just ahead of Miami's Ricky Nolaso, who has been handed 2.07 runs per game by the weak Marlins offense. No matter how well you pitch when you toe the rubber, it's hard to overcome an offense that is failing to provide you any sort of support.

When Hamels allowed a solo homer to Colorado's Wilin Rosario in the second inning of Sunday's game, it almost immediately meant that the game was a lost cause, because the offense just has not been there for Cole this season. They put up a pair of runs late, but by that time, the Rockies had increased their lead to five runs, so whatever late offense could be put together was a lost cause.

While no one can say that Hamels has been great this season, he is far, far better than his 2-10 record would suggest. In a perfect world, we won't judge pitchers based on their records, but that won't prevent Cole from being saddled with the baggage of having the most losses in the National League.