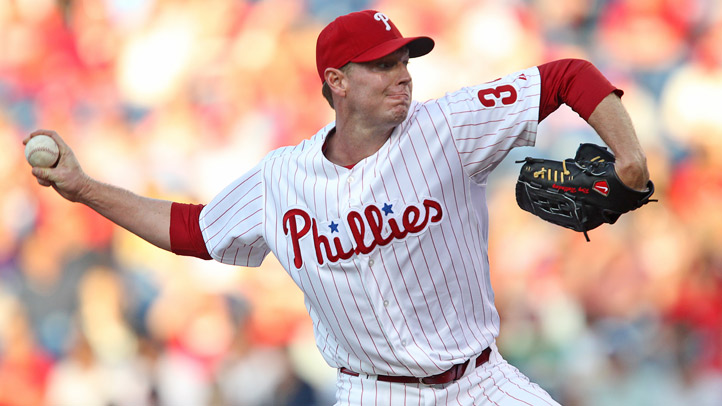 Roy Halladay said the Philadelphia Phillies just need to start having more fun.

Jordan Zimmermann pitched six solid innings, and Ian Desmond and Rick Ankiel homered to lead the Washington Nationals to a 5-2 victory over the Phillies on Tuesday night.

Bryce Harper tripled, singled and drove in two runs for the Nationals, who won their third straight game and beat the Phillies for the sixth straight time in Philadelphia _ something that never had been done in the franchise's 43-year history. Washington has defeated Philadelphia in four of the five meetings this season and 13 of the last 16 overall.

Halladay (4-4) continued his indifferent season with his second-worst start of the season, going six innings and allowing five runs and nine hits with six strikeouts and one walk.

It was especially surprising against the Nationals, a franchise Halladay has dominated with an 11-1 record and 2.28 ERA in 16 career starts. His last loss to the Washington franchise came on June 28, 2002 as a member of the Toronto Blue Jays against the then-Montreal Expos.

"A lot of guys, including myself, are trying to carry the weight of the team. You can't do that," Halladay said. "A lot of us need to go out there and have fun playing the game. You start pressing and it makes things worse."

Erik Kratz homered for Philadelphia, which lost its season-worst fourth straight game while struggling once again with runners in scoring position. The Phillies have scored three runs in their last three games and are 5 for their last 38 with runners in scoring position.

"We do it about every night," Philadelphia manager Charlie Manuel said. "It gets to the point where you're just trying to get somebody in. Our starting pitching, they're going to give up some runs. They're only human, too."

"We should be able to come back and win some games every now and then. How many times have we come back and won games being behind? We just don't put together enough. We don't hit the ball good enough to win the game."

Halladay said it's a matter of him and his teammates relaxing.

"The first two months have been tough for all of us," he said. "You do everything you can to fix it. Go out and try to play a little loose and focus on your job."

"Do it because you want to not because you have to. Ultimately, it's a game. That's important to remember. It's tough to do in a place like this where the fans and media expect a lot, but it's important to go out and play that way."

The Nationals had rare success against Halladay by being aggressive.

"You've got to be aggressive against him because he'll throw strikes," Nationals manager Davey Johnson said of Halladay. "He's a Hall of Famer, you better be up there swinging."

Harper did just that by belting the first pitch he saw, a 79 mph curveball, to right-center for a two-run triple in the third inning that put the Nationals in front for good, 2-1.

"He hung a curveball to the kid and he smoked it," Johnson said. "It was a turning point in the game as far as I'm concerned."

Said Harper, "I was looking for a first-pitch curveball and I got it. I was just trying to hit something up the middle and score some runs."

Halladay's only worse start this season was May 2 at Atlanta when he gave up eight runs and 12 hits in 5 1-3 innings. After winning his first three decisions, Halladay is 1-4 with a 4.75 ERA in his last seven starts.

Manuel said the lack of run support could be having a negative effect on his ace.

"When you don't score enough runs or (a pitcher's) not getting very many runs, he thinks that he has to be too good and too fine," Manuel said. "He thinks that every batter is urgent to him. I've heard guys say they don't let it bother them. At times, it may not. At other times, it can."

Zimmermann (3-4) earned his first win in five career starts against Philadelphia, surrendering one run and seven hits in six innings. He entered 0-3 with a 6.00 ERA against the Phillies.

"I kept the fastball down and the slider was exceptionally good tonight," he said. "I was just going after them, attacking. I threw the ball a little more inside than I usually do."

Tyler Clippard, who was taking the place of demoted closer Henry Rodriguez, pitched a scoreless ninth to earn his first save in two chances. Johnson told reporters before the game that Rodriguez no longer would be the team's closer after converting 9 of 12 save opportunities this season. Johnson said he would go with a closer-by-committee approach.

The Phillies took a 1-0 lead in the second inning on Hector Luna's grounds-rule double to center before the Nationals scored four runs in the third.

After consecutive singles to open the inning by Zimmerann and Steve Lomardozzi, Harper tripled to deep right-center to give the Nationals a 2-1 lead. Harper scored on Adam LaRoche's sacrifice fly, and Desmond homered to left to put Washington up 4-1.

It was Desmond's eighth homer of the season and fourth in his last seven games.

Philadelphia catcher Carlos Ruiz was ejected by home-plate umpire Gary Cederstrom in the frame when he argued a called ball on the second pitch to Danny Espinosa, the final batter of the inning.

"He said he just told the umpire that that was a strike," Manuel said. "He said when he looked up at him, the guy threw him out of the game."

Said Halladay, "I didn't see anything wrong with what he did. He didn't turn around. He simply said the pitch was a strike. I've never seen one like that before. Unfortunately he's our best player and he gets run out of the game."

The Nationals tacked on a run in the fourth when Ankiel drove the first pitch he saw from Halladay over the fence in center.

As they have during the losing streak, the Phillies continued to struggle with runners in scoring position. The most glaring example Tuesday came in the third inning when Placido Polanco singled and Shane Victorino doubled to put runners on second and third with one out. But Zimmermann got Hunter Pence to strike out and Brian Schneider to fly out to center.

"I think it's him thinking that he definitely has to knock a run in and he's more apt to be kind of amped up," Manuel said of Pence, who is 1 for his last 21 with runners in scoring position. "When you're overanxious and stuff, you're definitely subject to chase balls out of the strike zone. That's what being overanxious and trying too hard is."

Philadelphia left two runners on base in the second through fifth innings.

The Phillies did get a run in the eighth on pinch-hitter Kratz's first career homer, a drive to center off reliever Tom Gorzelanny. Kratz was called up from Triple-A Lehigh Valley before the game after Jimmy Rollins was placed on the three-day Paternity List following the birth of his daughter on Sunday night.
---
Fan, follow and download: Get the latest from NBCPhiladelphia.com anytime, anywhere. Follow us on Twitter, Facebook and NBC Philadelphia. Sign up for our sports newsletter. And, get breaking news delivered right to your mobile phone -- just text PHIBREAKING to 639710 to sign up. (Message and data rates may apply.)