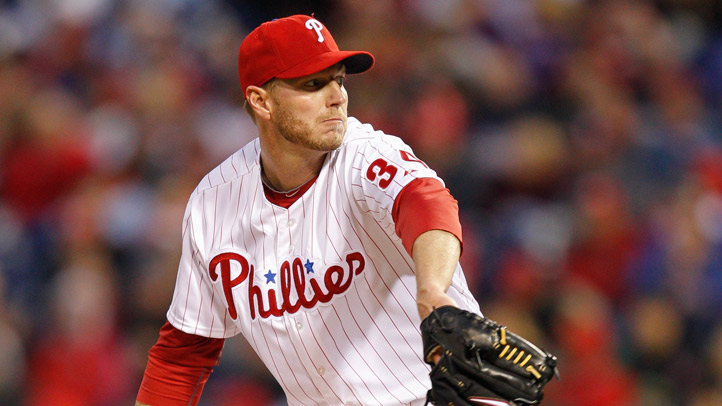 Since Roy Halladay came to the Phillies in 2010, he's been in a constant state of evolution. Not content to be just considered one of the great pitchers of his era -- as well as all time -- he remains in a permanent state of change, continuously working to improve himself.
While some would be fine with standing still and letting Father Time do its bidding, the 34-year-old righty has done whatever he can to stay ahead of the curve of what is ultimately a young man's game.
While his repertoire and approach has remained mostly the same, Doc has refused to let any scouting report get the best of him. Last season, when Halladay was pitching a bullpen session during spring training, he changed his change-up grip at the behest of pitching coach Rich Dubee. While some pitchers would resist changing anything when it comes to a money pitch, Halladay acquiesced, because he knew that he could potentially improve a portion of his already stellar game.
And, as Fox Sports' Ken Rosenthal notes, Doc is still changing how he approaches hitters:
Halladay is using his trademark two-seam fastball 10 percent of the time, compared with 27 percent in '11 and 30 percent in '10. His average fastball velocity is 90.1 mph, compared with 91.4 mph in '11 and 92.8 mph in '10.

He is throwing 51 percent cutters, 23 percent curveballs and 16 percent splitters, all increases over the past two seasons. (Halladay had thrown only 13 percent curves through four starts in '11 and 14 percent in '10.)

Halladay's velocities on all of those pitches also dropped from '10 to '11, and they're down again in '12. His cutter has gone from 92.1 mph to 90.5 mph to 88.7 during that time.
Small sample size notwithstanding, the change in his pitch selection in the young season is currently an interesting one. It's likely a combination of scouting reports, as well as Doc feeling different levels of comfort with different pitches during his starts. Sometimes you just have to throw based on how you feel. However, the drastic decline in the use of this two-seam fastball is definitely worth keeping an eye on.
Another trend that Rosenthal (and others) has hit upon is the decrease in velocity on his fastballs. While that might seem disconcerting, consider that Doc has never relied on his velocity, so a change in speed isn't a big deal, at all. His strength lies in commanding his pitches and setting up the hitters, and not throwing heat past them, so there is no need to sound the alarm.
It remains to be seen whether or not this supposed change in pitch selection is a deliberate attempt to altar his game, or if he is just going with what feels right so far this season. Whatever it is, it's not affecting his game, as he is still pitching like an ace (3-1, 1.50 ERA).
I suspect that, as the season goes along, we will likely see those numbers balance out, so I don't know how much they mean less than a month into the season. Of course, it will bear watching as the season progresses. But then again, Halladay always bears watching.