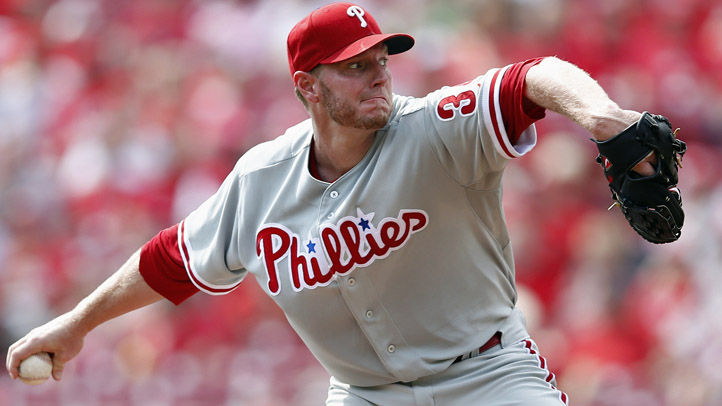 The Phillies wrapped up a successful road trip with a 6-2 win over the Reds in Cincinnati Wednesday afternoon.
Roy Halladay spread eight hits and a walk over 7.1 innings to improve to 9-7 on the season. Doc's only big mistake came in the fourth when he allowed Jay Bruce to hit an RBI double to get the Reds on the board.
The Phils jumped on Reds starter Mike Leake for six runs in 2.1 innings including a three-run homer from Erik Kratz in the second and a two-run shot from Chase Utley in the third.
"Kratz got us on the board," Phillies manager Charlie Manuel said. "We talk about run production. He keeps hitting home runs. He might be Babe Ruth."
"They have a lot of good hitters that I haven't figured out yet," Leake said. "They have a good plan and make it work."
But the Phillies bats stalled against the Reds bullpen, managing only one a Halladay single for the rest of the game.
Luckily Doc didn't need anything more. He struck out five before being chased in the bottom of the eighth after allowing a Chris Heisey single.
Antonio Bastardo ended the threat and Jonathan Papelbon would allow a solo homer to Jay Bruce before shutting the door.
The win helped close out a 4-2 road trip through Cincy and Atlanta. It also moved the 66-71 Phils within 8.5 of the wild card.
Next Up: the Phillies host Colorado for a three-game series starting Friday.