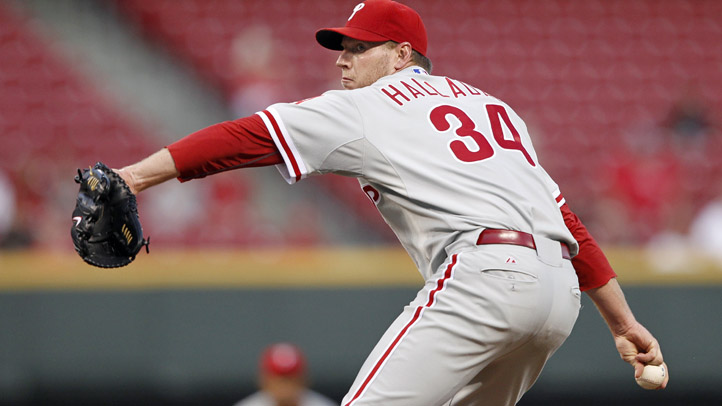 Roy Halladay did something he is known for and something he isn't Tuesday night as the Phillies beat the Reds 9-0 in Cincinnati.
The Common: Halladay (16-5) went seven scoreless innings, striking out nine and retiring 17 straight at one point while allowing just two hits and two walks. His performance coming against the Reds, the same team he no hit in last year's playoffs.
The Uncommon: Doc added a bases clearing double in the sixth off Reds starter Bronson Arroyo (8-11). The three RBIs were Halladay's first RBIs of the seasons.
Halladay was possibly helped by an eight-day layoff caused by rainouts.
"I felt fresh," he said. "I felt like my location early on wasn't great. I got into a rhythm as the game went on."
Halladay got plenty of help from Phillies sluggers as Ryan Howard homered twice, Raul Ibanez knocked a two-run shot and Hunter Pence added a solo homer.
Howard's two-run shot in the fourth put the Phillies up for good and gave Howard 100-plus RBIs for the sixth straight season, breaking Chuck Klein's team record of five consecutive 100 RBI seasons.
Brad Lidge and Michael Schwimer each pitched a scoreless inning to preserve the Phillies 18th shutout of the season.
Schwimer finished the game then got told he would be sent to the minors. It looks like he is being sent down to make room for left-handed hitter John Bowker. The Pirates reportedly dealt Bowker -- a career .237 hitter -- to the Phils late Tuesday, CSNPhilly.com reported.
The 85-win Phillies send Cliff Lee (14-7, 2.71 ERA) to the mound Wednesday night against fellow lefty Dontrelle Willis (0-3, 4.10).