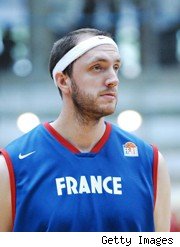 Roy Halladay took the hill on Wednesday night for the third time since returning from mid-season shoulder surgery, in what would go down as a 3-2 loss to the Washington Nationals. The veteran allowed one run over six innings, and did not factor in the decision.

Earned-run wise, it was his best start since returning from mid-season shoulder surgery just over a week ago. It's just the third time that he's allowed one or fewer earned runs in ten starts this season. For comparison's sake, Halladay allowed one of fewer 14 times over his 32 starts in 2011.

Other than that, it was a so-so outing for the 36-year-old. He walked five batters, including three in the first inning. The last time Halladay walked that many was in 2007, when he walked six batters in a complete game loss to the Oakland Athletics. It's his highest walk total of the season, and he's not had one start in 2012 where he hasn't walked at least one batter (he's done that once).

Velocity-wise, Halladay sat around the upper 80s for most of the night, and appeared to focus heavily on his off-speed repertoire. Ultimately, the end result was pretty positive, but considering the Nationals are one of the worst-hitting clubs in baseball, it's hard to judge just how good Doc actually was, or is.

He was in trouble from the get-go, as he allowed six of the first 11 batters to reach base. He settled down in the third, where he proceeded to set down nine of the next ten batters. He allowed a pair of hits and an intentional walk in the top of the sixth, but escaped without any further damage to end his third start.

While it appears that Halladay appears to be much like the pitcher who was getting crushed by opposing hitters to the tune of a 7.00+ ERA earlier this season (he has allowed eight runs in his three post-DL starts), the one thing that he hasn't had the luxury of is time. It's going to take him time to rebuild shoulder strength and to find his form, so we mustn't make snap judgments based on a few starts.

Conservatively, Doc figures to have at least four more starts in the regular season, so there will be plenty more chances for him to demonstrate that he's progressing and getting stronger as he looks to rebound from his shoulder injury. Ultimately, the month of September is akin to Spring Training from him, so we won't truly know if he is back to his old self until 2014. Whether he is in a Phillies uniform is another question altogether.