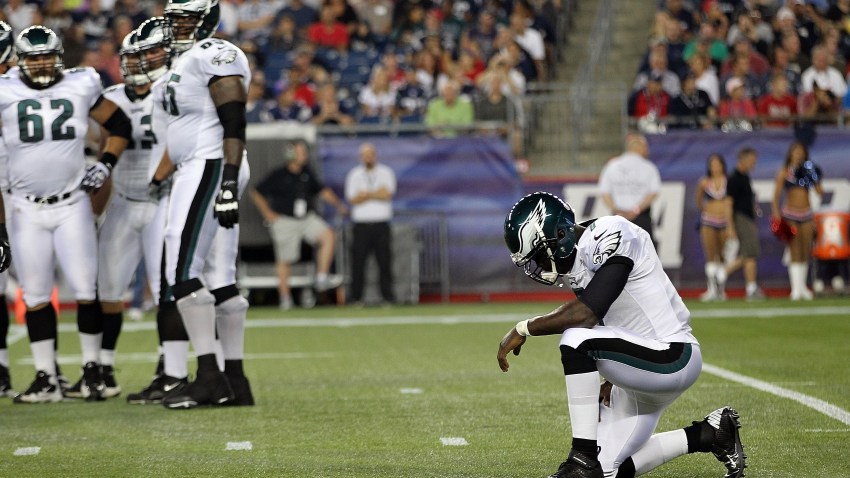 It's easy to make too much of a preseason game, even one that everyone acknowledges is the last real dress rehearsal before the regular season gets underway. The Eagles are still working out the kinks, and sometimes a poor practice can lead to a fabulous opening night.
At least, that's what everyone tells me. At the risk of being that insane moron who draws too many conclusions from a glorified scrimmage against the Patriots, let me highlight the main things that stuck out from the Eagles second preseason test:
The Good
Mychal Kendricks is quickly on his way to becoming the best linebacker on the team. In striking contrast to Casey Matthews' first games in the spotlight a year ago, Kendricks doesn't give off any indication that the moment is too big for him. He's certainly not a Pro Bowler yet (although that didn't stop me from making such wild, fanciful leaps on Twitter), as evidenced by his subpar coverage in the red zone that gave up a touchdown. But Kendricks proved that he has the whole package. Seeing him diagnose a screen play, fight off a blocker, and make the tackle warms my heart.
Philip Hunt continues to look like, at worst, the Eagles third-best defensive end. Hunt showed solid pass rush potential last year in limited snaps, but his added bulk makes him look like a formidable, versatile player.
Continuing with the defense, I would be remiss not to point out what an upgrade Nate Allen is over Jaiquawn Jarrett. Lots more to prove for Allen going forward, but his run support against the Pats was especially noteworthy.
What's that you say? You've only skimmed the last few paragraphs looking for the name Nick Foles? Now registering on Tim McManus's scale of 1-to-Tebow, the rookie has surpassed all expectations. I was particularly skeptical after the Eagles picked him in the third-round of the draft, but in two games Foles has looked better than any Eagles backup since Kevin Kolb's two starts in 2009. I'm no quarterback guru, but one of the things that stands out about Foles is his complete lack of fear (something that seems to be dooming Kolb in Arizona). Foles' pocket awareness, perhaps aided by his 6-foot-6-inch frame, is fantastic, which enables him to move around fluidly and deliver crisp passes into tight spots. If he can keep this up, there's no question he's a better option than Mike Kafka.
The Eagles red zone offense was great. Part of that was Foles, but other players stepped up as well. Stanley Havili made his case for the fullback job, notching consecutive good plays -- a fullback trap to get to the goal line and a lead block to put LeSean McCoy in. Clay Harbor made a fantastic grab in the corner of the end zone. Even DeSean Jackson showed up, when the Eagles motioned McCoy out of the backfield and got Jackson one-on-one against a linebacker.
The Bad
Unfortunately, all the good things I mentioned above happened against the Patriots backups -- no Tom Brady, no Rob Gronkowski, no Vince Wilfork. Bummer.
On Michael Vick's injury, all I can do is quote DeSean's immortal words: "Aw man, not again."
Ironically, new starter King Dunlap was the most impressive offensive lineman. Evan Mathis allowed the pressure on the play where Vick was injured. Todd Herremans had a similarly poor showing. And Danny Watkins looked totally incapable of blocking anyone. Let's not even mention Demetress Bell and his struggles against fourth-stringers.
Penalties, a problem in their own right, led to this shouting match between Andy Reid and Cullen Jenkins. Way to show some fire and all that, but this isn't really a good sign.
The Ugly
Pats offensive coordinator Josh McDaniels, with only second and third-stringers at his disposal, ran circles around Eagles defensive coordinator Juan Castillo, especially on third down. That's frightening.