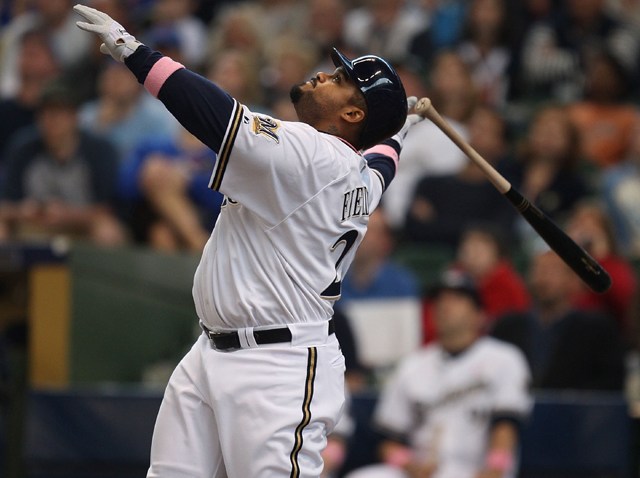 "Two thumbs-down" reviews are pouring in from all over the world of baseball after Prince Fielder and his Milwaukee Brewers teammates engaged in a planned and choroeographed home run celebration dance after Fielder's walk-off homer against the Giants Sunday.
I'd think you would just expect spazzy, choreographed dances from a guy whose name is Prince.
Fielder hit a solo, walk-off home run in the 12th inning Sunday to give the Milwaukee home fans their only win in this three-game series. As Fielder rounded the bases, things got really cheesy in the Cheese State. In antics still available online at the 3:44 mark of this MLB.com video, the Brewers all gathered standing at home plate and fell down in unison like bowling pins when Fielder did his exaggerated fat-man, arms-out hop onto home plate.
It was clever and funny! And by "clever and funny", I mean "already done six months ago by Shaq and the Phoenix Suns so everyone's already totally seen it before."
The San Francisco Giants were less than amused. "Matt Cain gave a long stare and shook his head," Andrew Baggarly observed on his San Jose Mercury News blog. "(Giants) Bench coach Ron Wotus went to the top step to make sure the Brewers saw his disapproval. Pitching coach Dave Righetti stayed out the longest, staring laser beams in the back of Fielder's head as he did a TV interview."
The rest of the baseball world is booing and hissing as well. "I guess it's a different game," the Angels' Torii Hunter told the Los Angeles Times, while reportedly rolling his eyes and shaking his head with disapproval . "It's all TV, acting, until someone gets hit with a pitch in the chin. I'm old-school. I could never do that."
And in his aftermath Mercury News blog post on the matter, Giants beat writer Andrew Baggarly groused, "If you have any knowledge or appreciation for the culture of baseball, you know Fielder's stunt was over the top. It was disrespectful. And if he's going to pull stuff like that, he's got absolutely no right to take umbrage the next time a pitcher gets revenge with a fastball to the ribs."
The celebration might have been a little entertaining, but what's really fun is hearing all these "integrity of the game" advocates insist that the Giants must now begin chucking high-speed pitches directly at Prince Fielder's body.
Joe Kukura is a freelance writer who gives the performance only two-and-a-half stars because no actual fighting broke out.
Copyright FREEL - NBC Local Media