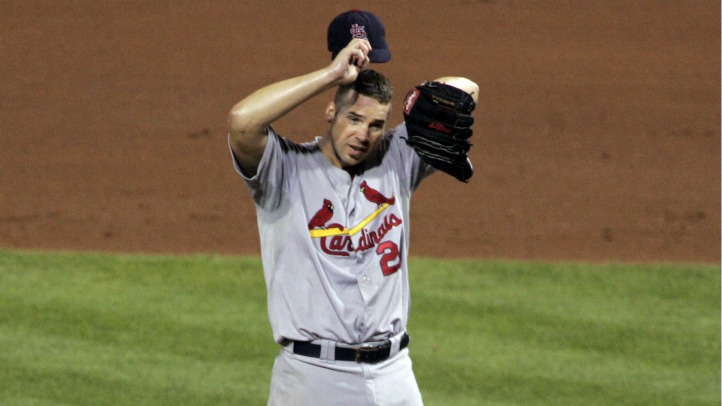 There was plenty to like about the way the Phillies offense performed in Game 1.
They picked up 14 hits, scored 11 runs and hit a pair of home runs to make Roy Halladay's rocky first inning an amusing blip and nothing more. The outburst was tied for the second-most runs they scored in a game all season and was a nice reminder that these experienced bats are capable of unleashing lightning all over the National League this October.
Not bad for a team that's supposed to win with pitching and the perfect way to start off the NLDS.
It wasn't all perfect, however. The first 10 Phillies to come to the plate against Kyle Lohse made outs and they only forced him to throw 28 pitches to get those outs. Chase Utley finally snapped the lineup out of their doldrums with a double and the race was on when he came around to score later in the fourth inning, but the Phils made things much too easy on Lohse in those first 10 trips to the plate.
They can't repeat that mistake against Chris Carpenter in Game 2, even if Cliff Lee doesn't decide to spot the Cardinals a three-run lead in the first inning. Carpenter is a better pitcher than Lohse -- Carpenter is St. Louis' ace -- and, more significantly, he is starting on three days rest for the first time in his career.
Carpenter has said he doesn't think that will cause him any undue stress, but it's always a risk when you take a starting pitcher out of his routine. You risk that he won't have the same stamina, that he will be out of rhythm or that he simply doesn't have the same command without the usual amount of rest between appearances.
The Phillies can't do anything about that last thing, but they can impact the first two with their approach at the plate. They need to make Carpenter earn every out he gets by not giving up at-bats by being as impatient as they were in the early parts of Game 1. Even if Carpenter isn't as sharp as usual, he can find his stuff if his confidence grows through a series of easy outs and get into a good rhythm that carries him through any rough spots.
Forcing Carpenter to throw a lot of pitches with good at-bats also raises the likelihood that Carpenter will run out of gas before the game reaches the late innings. Getting into the Cardinals bullpen is a huge edge for the Phils, so missing out on a good pitch here or there in the early innings can work out for them over the long haul.
With Lee on the mound, the Phillies can afford to take a patient plan to the plate on Sunday night. Make Carpenter prove he can do what he's never done before instead of giving him a chance to get comfortable in the new surroundings.
Copyright FREEL - NBC Local Media