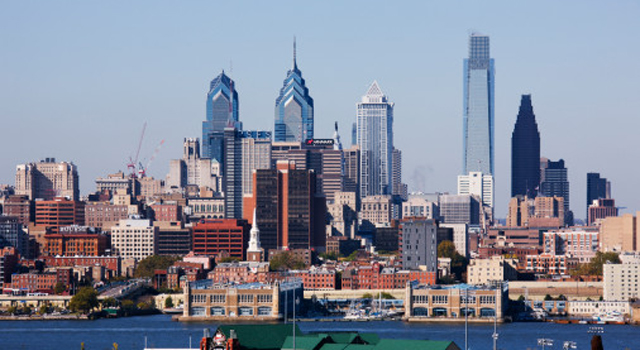 A Washington, D.C. radio station has a message for Philadelphia fans…
CBS affiliate 106.7 The Fan is the latest to throw fuel on the flames in what remains a mostly one-sided rivalry of Nationals fans against Phillies fans. (Sorry Nats fans but the Mets, Braves and even Yankees draw much more ire than the traditionally terrible Natinals. *Intentional spelling mistake)
After the Nats created a buzz with their "Take Back the Park" initiative that prevented people without a zip code in the D.C. area from buying up tickets to the early May weekend series between the Nats and Phils, the sports talk world is asking listeners to join the Nats' "Forget You, Philly" message.
106.7 The Fan wants to hear from YOU about what "Forget You, Philly" means to you. Here's the deal -- just create a video and Tweet us a link! Use any video-hosting platform you like, but make sure to Tweet us a link (@1067thefandc) to the video, and you must include the promotion hashtag #FUPhilly so we can pull it! Can't tweet us your video? Then find our street team at DC area bars now through Wednesday and we'll film the video for you! Follow us on Twitter to find out where we are, we'll be out each evening filming your FU Philly rants.
Nice ode to Cee Lo's interpretation of the F-word there guys.
Also in the spirit of the Nats' initiative, only residents of D.C., Maryland and Virginia are allowed to enter The Fan's Twitter contest for a chance to win tickets to one of the Phillies games at Citizens Bank Park South, oops, I mean Nationals Park.
Maybe a Philly kid going to Maryland, Georgetown or George Washington will mask themselves as a D.C. fan to Trojan Horse this contest but likely a D.C. fan will come out on top.
As pointed out by Crossing Broad, Philly fans have reacted to the #FUPhilly hashtag by trying to own it as their own.
Fans might be getting fired up over the D.C. vs. Philly battle but on the field it still doesn't seem like a fair fight. The Phillies are 59-31 (65.6 percent) versus the Nats since 2007. The Nats however did win the series 8-10 last season.
And in case you were wondering, Bleacher Report picks the Nats to finish fourth in the National League East behind the division-winning (their sixth straight) Phillies, the Braves and Marlins.
And if Phillies fans would like to show love for the Phightins while getting back at the Nats and their fans for all this "Forget You" hoopla, single-game tickets to Nats games, including nine games against the Phils, go on sale Thursday.