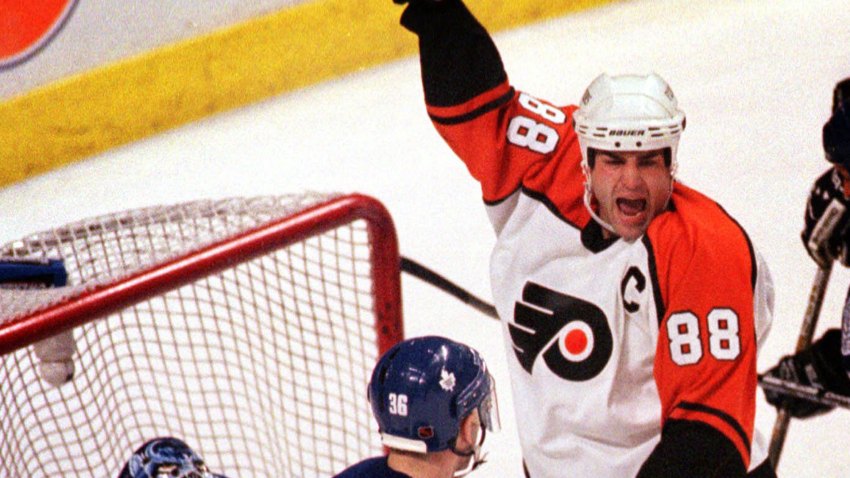 Eric Lindros has his place locked in the Hockey Hall of Fame forever.
He'll soon have his place hanging in the rafters above the Flyers' home ice forever, too.
The Flyers announced on Monday that Lindros' iconic No. 88 will be retired during a ceremony on Jan. 18 prior to the game vs. the Toronto Maple Leafs at Wells Fargo Center.
"I am deeply humbled and honored that the Flyers are going to retire my jersey," Lindros said in a release sent by the team Monday morning. "I am so thankful to the entire organization for this incredible recognition. I look forward to sharing this moment with my family, friends, teammates and, of course, Flyers fans, who mean so much to me."
After he was acquired from the Quebec Nordiques in 1992, Lindros became the face of a new era of hockey in Philadelphia in the 1990s with his skill, speed and hulking, dominating frame.
In his incredibly productive and often controversial 486-game Flyers career from 1992-2000, Lindros recorded 290 goals and 369 assists for 659 points, good for fifth on the franchise's all-time point-scoring list. "Big E's" 290 tallies are eighth-most in team history. His 369 assists are seventh-most in team history.
The Flyers became Lindros' team prior to the 1994-95 season when he was named the 11th captain in franchise history at the tender age of 21. To this day, he is still the youngest captain in Flyers history.
That same season, Lindros won the Hart Trophy for NHL MVP after he posted 29 goals and 41 assists for 70 points in the 48-game strike-shortened season. He and Bobby Clarke are the only two Flyers to win Hart Trophy.
Lindros was a six-time NHL All-Star, all coming during his seasons with the Flyers. He also participated in three Olympic tournaments, winning gold with Team Canada in 2002 in Salt Lake City.
"Big E" was inducted into the Flyers Hall of Fame alongside "Legion of Doom" linemate John LeClair in November 2014. He was inducted into the Hockey Hall of Fame last fall.
Lindros will join Clarke, Barry Ashbee, Bill Barber, Bernie Parent, and Mark Howe as the only Flyers to have their numbers retired by the club.
Copyright CSNPhily